Enjoy free time on the beach without applying sunscreen to your skin is going to damage it badly. Especially when you have delicate skin, it can easily catch sunburn. As soon as you notice sunburn or body acne on your skin, start treating it as soon as possible.
In this case, most people don't know what treatment option would be best to try. If you fall in that category, it is better to use a natural remedy as aloe vera body wash. The compounds present in it can heal wounds and provide relief from sunburn too. Let's know how you can use it to get rid of sunburn and its marks on your body.
How does aloe vera help in sunburn?
Aloe vera is enriched with many compounds that are beneficial to your skin. It contains anthraquinones, a compound that helps in reducing swelling. More ways in which it helps your skin is given below:
Prevents skin peeling in case your skin has been overexposed to the sun
Capable to soothe sunburn with its 19 essential amino acids
Its repair skin damage by reducing the inflammation and hydrating the skin
Producing a cooling effect on the burnt skin
How to use aloe vera in sunburn?
In sunburn, aloe vera has shown some positive results. You can apply aloe vera gel directly on the burnt part of your skin and wait for the magic to happen. It will start acting quickly and give you relief from severe sunburn.
If it's not possible for you to apply it directly, you can also use a body wash containing aloe vera. Right now, Medimix aloe vera body wash is something we can rely on. It is free of chemicals and any other harmful ingredients.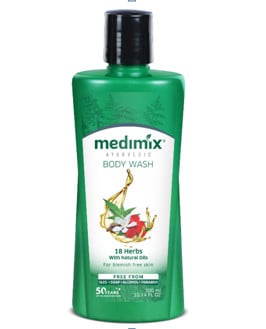 The aloe vera in the Medimix body wash is blended with tulsi and lemon, which is not less than a bonus. Apart from that, the product is packed with a mixture of 18 herbs and essential oils altogether. This will provide you a flawless skin along with making you the centerpiece of attraction among a wide number of people.
You can use Medimix aloe vera body wash regularly in your life and get relief from sunburn.
Conclusion
If treatment is not given at the right time, it can lead to skin cancer, premature aging, and many other problems. So, add the use of Medimix body wash to your daily skincare routine. It offers many benefits to your skin. That's why we are promoting its use in case of sunburn. In addition, you can use it as a regular body wash too.