When choosing the perfect wedding dress, brides often find themselves in a world of endless possibilities. Among the myriad options, sleeveless lace wedding dresses have emerged as a timeless and enchanting choice. Many brides are sure they are after a lace wedding dress but still determining sleeves versus sleeveless. There are a variety of sleeveless wedding dresses. There's the thin, spaghetti-style strap, the off-shoulder strap, or a tank-style sleeveless option. Choosing amongst these options, while tricky, is a win-win. By trying many sleeveless lace options, a bride can narrow her choices and ultimately find the one. If you are a bride into simple sleeveless gowns, the wedding dresses at Dreamers & Lovers are the perfect choice. Check out their collection for your dream sleeveless lace wedding dress. Exuding a blend of boho charm, romantic allure, and unmatched comfort, these ethereal gowns have captured the hearts of countless brides. Follow along as we delve into the captivating world of sleeveless lace wedding dresses, exploring why they have become an increasingly popular choice for modern brides seeking simplicity and elegance on their special day.
The Appeal of Sleeveless Wedding Dresses
The sleeveless wedding dress has gained popularity for several compelling reasons. The first simple reason is, it is flattering. A sleeveless lace wedding dress celebrates the beauty of a bride's arms, neck, and shoulders, highlighting her natural grace and radiance. This design choice allows brides to flaunt their personal style and confidence while embracing the allure of simplicity. A woman who prefers simplicity in her everyday life would naturally gravitate towards this dress choice. A sleeveless gown exudes a refined elegance that transcends trends and stands the test of time, ensuring the bride's timeless beauty remains the centerpiece of her wedding day.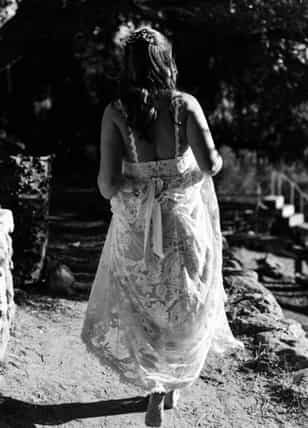 Embracing Boho Elegance with a Sleeveless Boho Wedding Dress
Bohemian weddings have become popular over recent years, with brides leaning towards a more organic and free-spirited vibe. Boho brides usually lean to a more flowy and free silhouette, with comfort being a high priority on their dress wishlist. These brides usually favor the texture of lace over a more minimalist style such as silk. Sleeveless lace wedding dresses effortlessly complement boho-themed weddings. The delicate and intricate lace patterns evoke a sense of nature's beauty, while the sleeveless design enhances the gown's lightness and fluidity. Brides who dream of a wedding infused with bohemian charm find solace in the simplicity and grace of sleeveless lace wedding dresses. While many boho brides prefer warmer tones like off-white and ivory, an all-white lace wedding dress is also an optimal choice.
The Romance of Lace
Lace is a fabric that always stays in style. Wedding dresses from the 1910s to the 1950s to now has been covered in intricate lacing. It weaves an aura of romance and femininity, mesmerizing both the bride and her wedding guests. Whether a bride goes for a more or less traditional lace, boils down to personal preference. A sleeveless lace wedding dress exudes an old-world charm with a modern twist. The soft, intricate patterns of lace bring a touch of nostalgia and elegance to the bride's overall appearance, making her feel like a heroine in a classic love story.
The Lightweight and Comfortable Sleeveless Lace Dress
Comfort is paramount for any bride, especially on her wedding day. Sleeveless lace wedding dresses are known for their lightweight and breathable nature, ensuring the bride feels at ease throughout the celebration of the day. The absence of sleeves allows for unrestricted movement, making it easier for brides to dance the night away and fully embrace every moment of their special day without feeling weighed down. Many brides who opt for a lightweight sleeveless dress keep their dress on throughout the reception. Its a bonus, choose a lightweight no-sleeve option and the main dress doubles as the reception dress. Yes!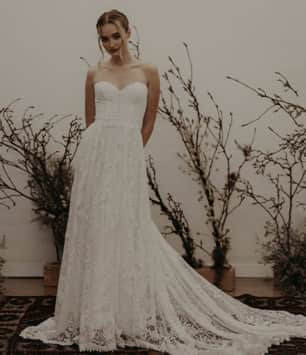 In Love with the Versatility in Styling the Sleeveless Wedding Dress
One of the most appealing aspects of sleeveless lace wedding dresses is their versatility in styling. Whether the bride envisions a whimsical garden ceremony, a beachside celebration, or a rustic barn wedding, a sleeveless lace gown seamlessly adapts to any setting. Brides can accessorize with statement jewelry, bohemian flower crowns, or vintage-inspired veils to create a look that reflects their unique personality and style.
In pursuing the perfect wedding dress, a sleeveless lace wedding gown emerges as an enchanting choice that effortlessly embodies boho elegance, timeless romance, and unparalleled comfort. Its ability to complement diverse wedding themes and its versatility in styling make it a favorite among modern brides seeking an ethereal and simplistic charm.
As you embark on finding your dream wedding dress, consider the allure of a sleeveless lace gown. Embrace the natural beauty of your arms, neck, and shoulders, and feel the delicate touch of lace enveloping you in a timeless embrace. Choose a dress that embodies the essence of your love story and allows your inner radiance to shine bright on your special day. For in the embrace of a sleeveless lace wedding dress, you will find a gown and a reflection of your most cherished dreams and aspirations. Below is the Dreamers & Lovers white sleeveless lace wedding dress.