Hair Spa at Home
Would you like to spend your day at a parlor if you get a chance to get pampered? I know how tempting it is right? But again, you will have to do a lot like- Book an appointment and travel down to the salon to get the spa done. You cannot leave your hair just like that because of all these factors. But maybe you can try out the hair spa treatment at home.
A hair spa is one of the best ways to pamper those beautiful looks. It's basically a treatment that helps make your hair strong, bouncy and shiny, while simultaneously dealing with dandruff, damaged hair, and hair fall control. Today it is one of the fastest-growing trends worldwide. The therapy includes a deep massage using any oil, serum, cream as per hair type. Next up is steaming your hair so that the maximum amount of product is taken up by your hair.  Now apply a mild best shampoo followed by a conditioner. At last use a mask as per hair type and concern.
Whatever hair type you have there is a hair spa treatment for you, curly hair, dry hair, thin hair, and so on. Many people describe hair spas as hair rebirth therapy. As it deeply conditions, nourishes and minimizes the damage caused due to external conditions. Usually, people go to a hair spa before any big events. So that hair looks at its best. Some also like to pamper themselves and maintain hair health.
Hair spa treatment :
Begin with the Shampoo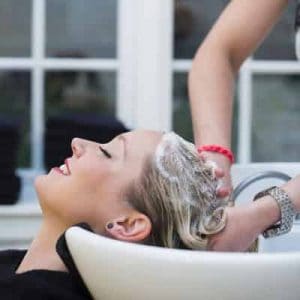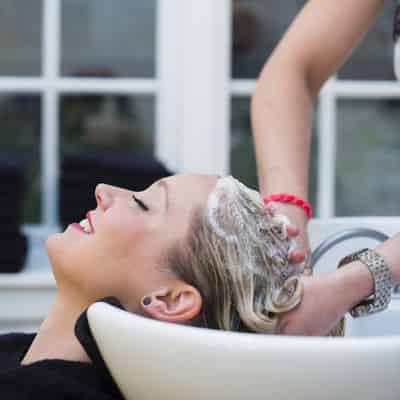 Source - Pinterest
Any hair treatment begins with washing your hair with shampoo to remove all the dirt as well as oil from your hair. Start with gently massaging your scalp with shampoo. Make sure that you don't even miss out on a single strand. Keep going on for fifteen minutes. Gentle massage will help you relieve stress and trust me; you will feel great. it will be refreshing and relaxing the whole time you massage. Now let the water cascade down your scalp while the shampoo gets washed off slowly. Hair washes with shampoo is an essential step as it helps you clean all the sweat and dirt clogged in there. Also, make sure that you use a sulphate free shampoo and massage in circular motions. You will feel so relaxing because of the blood circulation that will happen while you massage. Once, your hair is cleansed, get ready to apply some natural oils and creams that will follow next.
Go ahead with the Conditioner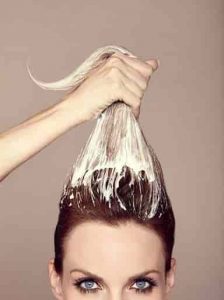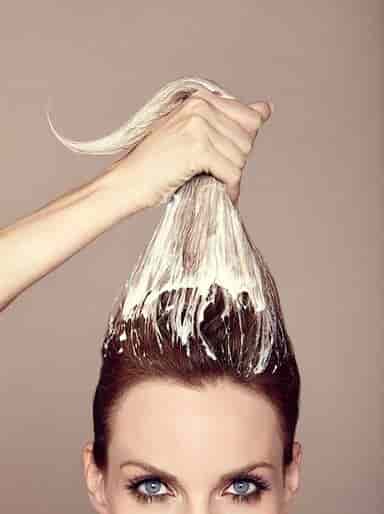 Source - Pinterest
After the long shampoo session, go for intense conditioning afterward. Make sure that you use the same brand of your shampoo itself. It often gives the best results. But yes in the end, what matters is the product that suits your hair needs. So go ahead with the conditioner of another Brand if that suits you well enough. Just don't use it too much on the scalp but on the hair strands. It's basically for smoothening your hair. Wash your hair, squeeze out the extras and apply the conditioner. Let it stay for a few minutes. Lastly, wash it off with lukewarm water as I mentioned earlier.
 Ready for the cream?
Here you go with the therapeutic hair spa cream because your hair treatment is incomplete without this service. These nourishing creams help in repairing, strengthening, and softening your hair. This one is the most crucial step as well. Pour the cream in a bowl and keep a handy brush along to apply it. Now, create six sections of your hair by using clips and a comb. Apply the cream in each section one by one and don't miss out on any strand. Finally divide each of the sections further so that hair gets the cream properly. Your main aim should be to cover all the hair strands with cream. after the application of the cream, give an intense massage to your hair. The process also helps you in relaxing and lightening up your mind and senses. You can go ahead for atleast twenty to thirty minutes. 
Finally the steam treatment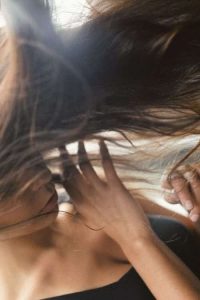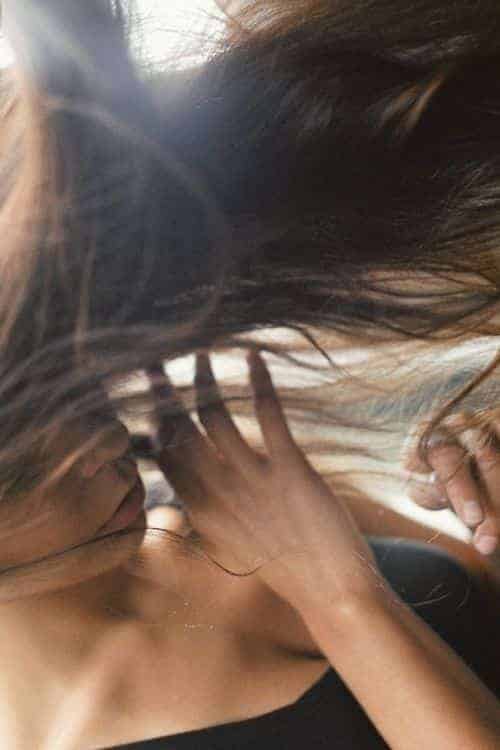 Source - Pinterest
You might have experienced the steam treatment at the salon for sure. They have a special steam machine for it. So what it does is, it helps you open up the pores of your scalp so that it absorbs the nutrients well and fast. To do this at home, you don't need to worry because a hot towel can do this for you. Just dip the old towel in hot water and squeeze out the excess water and that's it. Wrap it around your head.
Oil mask hair spa: one of the easiest and effective treatments. olive oil is an excellent nourishing oil. Filled with antioxidants helps repair damage. It's also suitable for all hair types.
Ingredients: coconut oil for hair/olive oil, hot water, towel
Procedure: take 2-3 tbsp oil as per your hair length, texture.
Gently warm it.
Massage gently into your scalp for 10 minutes.
Dip the towel in hot water and squeeze out excess. Place this towel on your scalp. Wrap your hair for 15 minutes.
Wash off with a mild shampoo. Repeat it twice a week.
Hair spa at home for dry hair:
It is difficult to deal with dry hair. Unfortunately, some are born with dry, dull, and frizzy hair by nature. Some extra care is needed for dry hair. This banana mask will definitely help get rid of dryness.
Banana mask hair spa at home for dry hair: Bananas are enriched with potassium, vitamins, and natural oils. This makes it excellent for your hair. Banana will give your hair perfect nourishment, and increase its elasticity. This mask works well for dry, damaged hair.
Ingredient: 1 ripe banana, 1 tbsp olive oil, hot water, towel
Procedure: blend the banana into a smooth paste.
Add olive oil and make a uniform mixture.
Steam your hair using a hot towel for 15mintues.
Apply the banana and oil mixture all over your scalp and let it rest for 30mintues.
Wash off with a mild shampoo. Which is the best shampoo for your hair? 
Hair spa at home to control hair fall: 
Hair fall can be caused due to a lack of nutrition to your hair follicles, stress, lack of care. We need to take special care of our hair if we observe hair fall. The egg mask will give your hair excellent hair nourishment.
Egg mask hair spa to control hair fall: Eggs are a great source of proteins. Which helps your hair grow while also providing strength and preventing any hair damage. A simple tip to always remember is to never wash out an egg mask with hot water. Pair up eggs with different ingredients and you get masks for different hair types.
Ingredient: 1 egg, 2 tbsp honey, 1 tbsp olive oil.
procedure: in a bowl whisk egg, honey, & olive oil to get a uniform mixture.
Apply this mixture to your scalp and leave it for 30minutes.
If you want to have steam take steam before mask application.
Wash off with cold water using a mild shampoo.
If you want to mask an eggy smell you can use, rose water, rosemary essential oil which has anti-dandruff properties.
These are some of the natural masks for a hair spa at home. Other than this you can also try out the hair spa kits and mask which are available on the market. Professional brands such as L'oreal, Wella, Matrix, Schwarzkopf have hair masks that are to use at home. they also have different products for different hair types and concerns.
Advantages of hair spa.
A spa is always a relaxing therapy. It will mostly have advantages for you some they are:
1.Strength hair roots: the main and most important purpose of hair spa. Hair spa strengthens hair roots, nourishes hair follicles and revitalizes your scalp. Most of the time hair fall is caused due to a weak hair root. Hair spa will give strength to roots and thus will reduce hair fall gradually.
2.Improves blood circulation: massage during hair spa help increase blood circulation. This enables hair follicle to get more nutrients from your bloodstream. Due to which your scalp health will improve.
3.Protects from dandruff: yes! You can get rid of those white flakes.  A hair spa will reduce your dandruff. Dandruff is caused due to dry scalp, excess oil production, stress, environmental pollution. Hair spa massage relaxes brain nerves to get relief from stress. This will reduce excess dandruff and dryness in your scalp. Beauties with dandruff will have to take few sessions to get rid of dandruff completely. This completely depends on your hair, scalp and dandruff intensity.
4.Balance oil secretion: Sebaceous glands secrete natural oil which is present on our scalp. Too much or too little of anything is always bad. The same is with natural oils. Excessive oil will cause blocking of pores on the scalp leading to infections and weakening of hair. Less oil will result in dry scalp and white flakes.
5.Manage frizzy, dry hair: frizz is a big no-no. But curly hair always has a lot of frizz and it is difficult to manage. Hair spa comes to your rescue. Oiling and conditioning will help you tame the fizz. A spa will also add a good shine and texture to your hair. Repairs damage caused due to dryness.
6.Reduces stress: the most advantageous thing. Hair spa involves head and scalp massage. Massage primarily helps to eliminate stress which is one of the reasons for hair problems. Due to massage blood circulation increases which relaxes nerve endings. Hence we get a stressed-free feeling.
 Disadvantages of hair spa 
1.Affect colored hair: if you have recently colored your hair. Watch out before taking a hair spa as it might fade away your hair color. Another way is you can consult your spa therapist. Ask them to use products that are specially formulated for colored hair.
2.Heavy on pocket: the cost of hair spa is always dependent on your hair length. The different salon may have different rate. For long hair beauties, it will be more expensive and likewise for short hair.
We can definitely have a hair spa at home if you are on a budget. Some regular products from your shelf and you are sorted out.
Hair spa at home with different Ingredients
Henna Treatment
Dandruff can cause hair fall as well as flaky scalp. So to go about the Henna Hair Spa treatment, Combine the Henna powder, sheekakai powder, Amla Powder, Reetha Powder – all 2 tablespoons with one pot of hot boiled water. Begin the procedure by giving steam to your hair for 10 minutes and then apply the paste. Wash it off with shampoo after an hour.
Aloe Vera Treatment
As you know Aloe Vera works well for so many things and so hair spa as well. You just need fresh Aloe Vera gel, Lemon Juice, and hot boiled water. Again begin with steam for and apply the paste. Keep it for 2o minutes and wash off with the sulphate free shampoo.
Fenugreek Hair Spa
This can give you lustrous and healthy-looking hair. You need 1 tbsp Fenugreek seeds, honey, curd, and one-pot hot boiled water as all the above. Just soak the seeds overnight. Make a fine paste of these the next morning and combine all other ingredients. Then goes the same procedure of steaming, applying, and finally washing off.
Some general doubts regarding hair spa are
1.How can we do a hair spa at home?
It is very easy to do hair spa at home. as explained above the masks can be used for hair spa treatment at home. otherwise, we can get a hair spa kit from the market and use it. the general steps include. oiling using an oil of our choice. steaming using a steamer or a towel soaked in hot water. wash with a mild shampoo. conditioning as per your hair concerns. lastly hair mask this will lock up all nourishment. After mask wash off without using any shampoo. let your hair dry naturally.
Today, we also have some beauty service provider who visits our house personally to give us beauty treatments.
3.Which is the best product for a hair spa?
There are many products available today on the market. according to different hair type, hair texture, hair concerns and so on. explore and find out which suits you.
Comment down if you have any other queries.
Hair spa cream
Hair Spa Price in India
Hair Spa prices usually go up to Rs. 1500 to Rs. 3000 depending upon the length of your hair. It takes a maximum up to 3 hrs.
Is hair spa safe?
Hair spa is safe. It nourishes your roots and makes them glossier and strong as well. After the spa, you yourself will experience less hair fall. Now, a hair spa at home can be a lot of types. Each can be using different ingredients. The treatment can be even with chemicals as well as natural also. the only thing is, you won't have to face any side effects if you go for the natural. Also, it can be easily incorporated for healthy hair.
Is hair spa good for hair growth?
YES! it will definitely enhance your hair growth. Few sessions are required as per your hair condition. take good care of your hair, maintain them after doing a hair spa.