Stress, Stress, Stress
With the big day coming, and all the planning taking place – a few brides are dreading going wedding dress shopping. It's not that they don't want a beautiful dress. It's that they don't enjoy the public ritual of what wedding dress shopping has become.
I know I didn't. I usually do most of my shopping online. I am busy, and don't particularly like walking into a store to try on a million things. When I'm stressing out about a million things, and people expect me to take an all girl entourage shopping to a fancy dress store with the intent of everyone looking at me, this is definitely NOT my idea of a good time.
Going wedding dress shopping is not like going to try on a shirt. You are going to need help. Most of these dresses are complicated and you need attendants! If it's not your bridesmaids or family, it's going to have to be a dedicated shopping assistant at the store.
This dreaded ritual actually made up a large percentage of my stress. I anticipated having to get into a dress and parade in front of everyone: my friends, my mother, my sisters, my cousins, and whoever happened to be at the store at the time. Nightmare!
I'll admit, I'm a bit extreme, and when I made the decision to finally put my foot down and buy a dress online I felt like a heavy weight was lifted off of me.
I want to share some tips on how to go about making an informed choice about choosing a wedding dress online – and not just a wedding dress. These rules can extend to finding a perfect formal dress, or even a mother of the bride dress (or mother of the groom!).
Online Clothes Shopping 101
The downside to shopping online is that you won't be able to touch the material. Some stores (and I stuck to these stores only) describe exactly what fabric they are using to make their apparel. Is it chiffon? Tulle? Lace? If lace then what kind? What is it made out of?
Make it a point to explore the different available materials and how they feel like in real life. You will then have a good idea of how the dress will feel on you, and the material's weight.
Measure yourself! I know, I know. This is the most painful part of any dress shopping, but you won't be sorry. I eyeballed it a few times and I got a dress that I would LIKE to wear but not the one I could realistically fit into without inhaling deeply. And not exhaling.
Once you measure yourself, familiarise yourself with the company's size chart. They are pretty much all different. And if they are meant to be similar, do it anyway because you never know. This eliminates all the guessing work.
The great thing about wedding dresses, and any sort of formal wear dress, is that you can take in to any seamstress who will work with you to get it more fitted. I have this problem with most of my dresses because I am short. They all need to be shortened to fit me, no matter what. So if anything, give yourself more room so the seamstress has something to work with.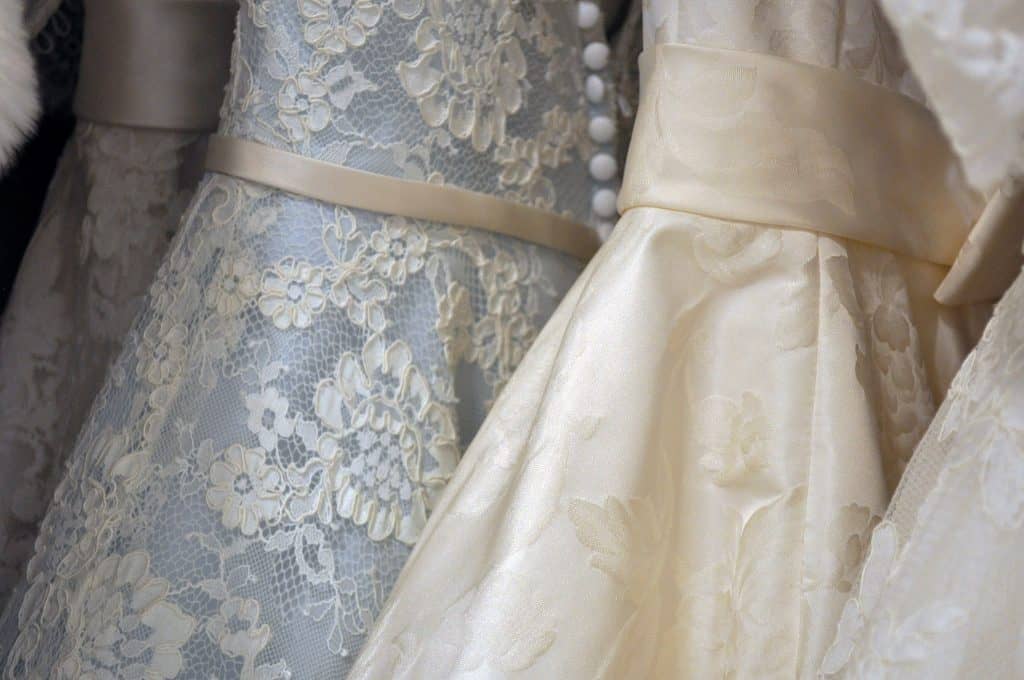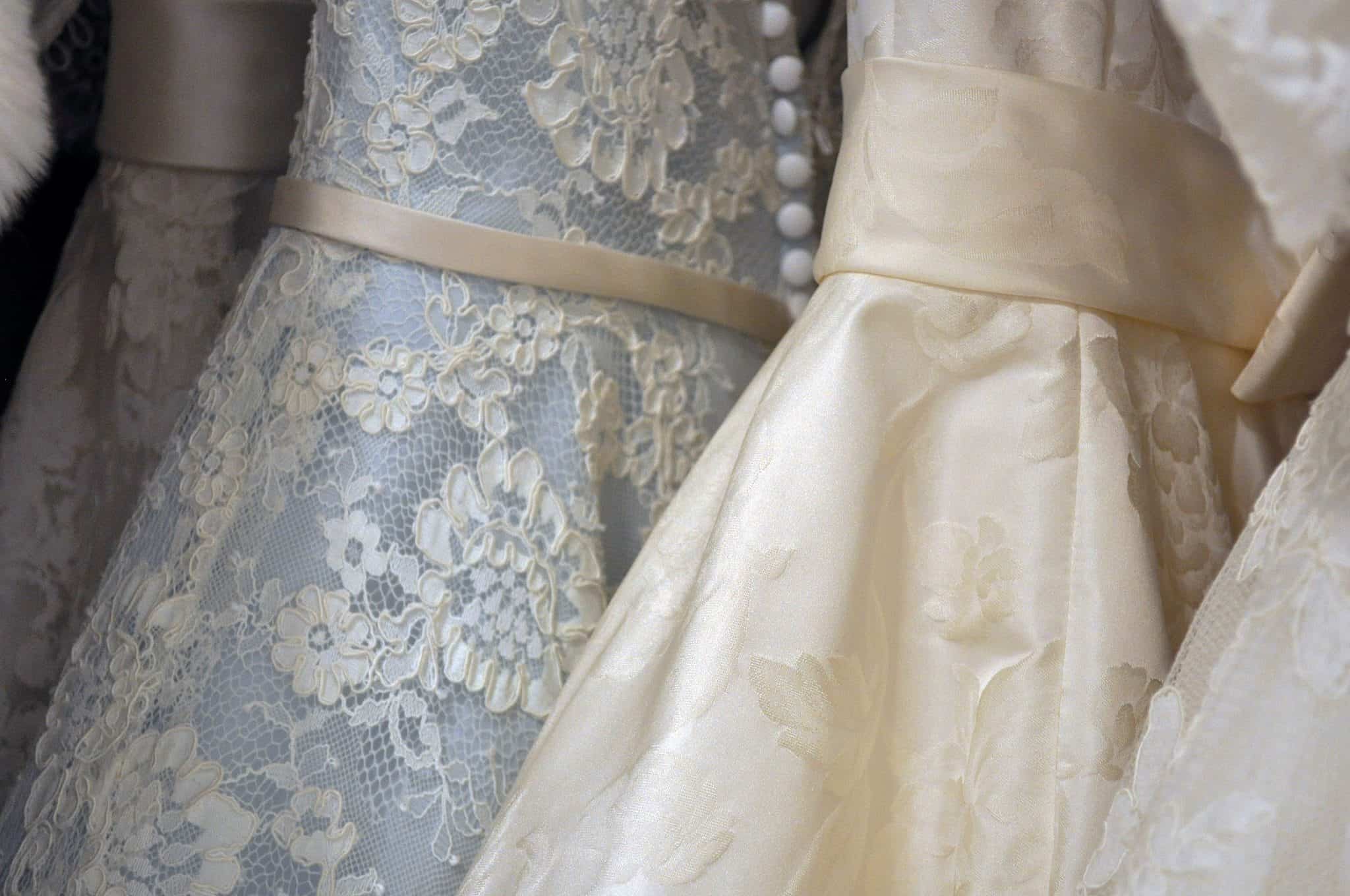 Horror Stories
Having said all that, there are some companies that you should not order from period. There is a difference between choosing a reputable clothing store, preferably with a physical presence in your country and a mystery store on ebay or elsewhere on the internet.  
Do read all the reviews you can. Look at the pictures in those reviews. If it's a custom made wedding dress, does it look like the pictures promised? I decided to not chance it and go with looking only at sites that sold
luxury designer wedding dresses. Why? This leaves little room for mistakes. It is extremely difficult to sew a full dress without fittings, based only on a few measurements.
But if you are doing that – please, please make sure to go to a seamstress so you can get measured by a professional, and make sure she measures every inch of you!
My cousin did not follow this advice and ended up having to go emergency wedding dress shopping (trust me ladies, you NEVER want to do that!) after receiving her custom sewn but inexpensive dress from a questionable online source. She didn't know if she should laugh or cry. She cried first.
The ultimate lesson: Reputable sellers at all costs!
There are some sellers that sell vintage dresses and used dresses. This can be both a lifesaver and a nightmare at the same time. Another one of my friends bought a beautiful vintage dress, only to find the fabric was so frail that it would rip at any sudden movement! It was a great display piece – if she wanted to frame it! But too fragile for a night of dancing at her wedding!
Happy Endings
If you follow these rules, your dress will arrive and you will be happy to try it on. Maybe you will have to take it in here and there, but you will have exactly what you want with no pressure of going to a huge dress store.
The added benefit to my alternative is that when you walk down that isle, the dress is going to be a surprise for everyone – not only the groom.