Types of Manicure
Do you know what is Manicure and types of manicure, so the word Manicure comes from two Latin words 'manus' and 'cura'. The word 'manus' means hands and the word 'cura' means to care. Everyone loves to take care of their hands, especially women. Every woman loves to pamper herself in whatever ways it is possible. So it can be just taking care of your pretty nails. When you go to a salon specifically, that is called 'Manicure'. Not just Salon but you can also do Manicure at home. It's an integral part and right of every woman's beauty. But it depends on you, what you want to do exactly, whether you want to do it on your own manicure and pedicure at home or you want to get it done in a parlour. Though you would get a better understanding if you go to a Salon, as you will get to know many different types of manicure that will suit you the best. All your hesitation would be gone, if you actually go, visit and understand the different types. Being Honest, it is good if you know about all the verities and you can experiment rather than just sticking to the basic manicure.
Different types of Nail Manicure
We have covered all different types of nail manicure which can easily be done at home and we also covered the different types of manicure services provided by outlets and big salon.
 French Manicure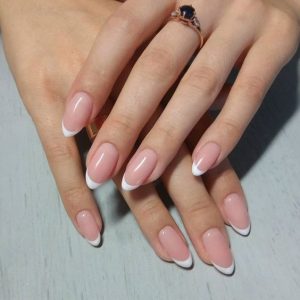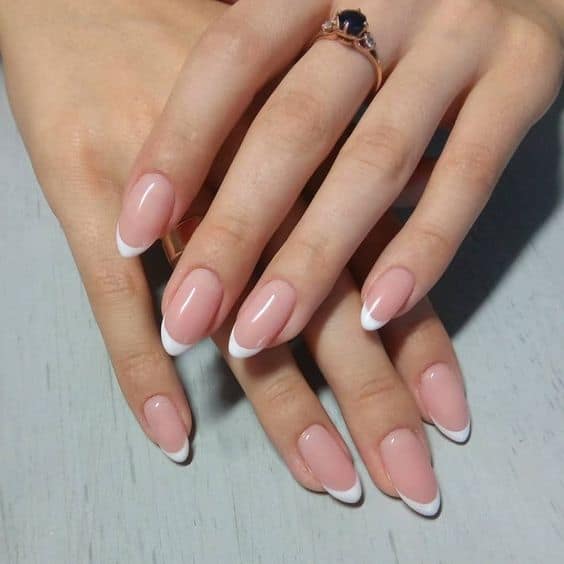 Apart from the basic types of manicure that you can even do at home, there is a French Manicure. You would have probably heard about it or at least would have seen it on various celebrities' hands as well. It is classic and one of the most popular manicure. It not only looks elegant but also gives you a sophisticated look. Who doesn't like to be well-groomed, especially women? For your better understanding, the classic types of manicure for different nail types when you put a small white curved line on the tip of your nails. In order to do that, you need to apply a transparent base coat to your different types of nail polish.  Not only white but you can also experiment with other shades. But that might not look as classy as a stark white tip.
Reverse French Manicure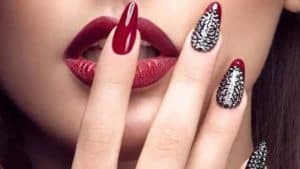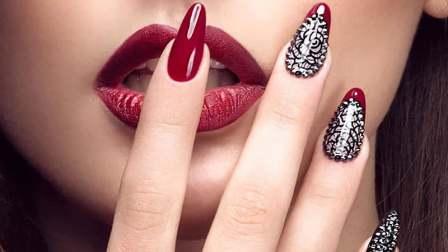 For some of you, French might be a little out of trend though not exactly. You might be looking for something even more elegant and sophisticated as French but not French exactly. That is called Reverse French manicure. It is looked similar to the high fashion runways in Europe and that's when it started moving to mainstream popularity. So, to acquire this look, as the name suggests, you need to paint the moon of the nails rather than the tip with a lighter shade or a glossy, shimmery shade. The rest of the nail can be left naked or maybe you can go for a darker shade. But you are always free to experiment with colours that will suit you to come up with the best. Not only can you experiment with the colours, but also with the patterns or designs for the moon of your nail.
American Manicure
Are you confused about what is an American Manicure? American Manicure cannot be avoided between the popular and most common Manicures. You might be confused between American and different types of Manicure unless you have done it before. Though both the Manicures are really similar but still has a very distinct difference. American Manicure has a usage of very subtle colours that looks more natural and elegant. You can go for this if you are highly conscious and still want to maintain your nails at its best. It gives you a polished look that is not very showy as well. American Manicure uses mostly pale and nude shades. The main goal of this is to get beautiful nails without looking any bold, fancy or flashy.Though, the process is very similar to the other types of manicure. So, just like the other types of manicure, you start by applying a transparent coat base on different nail types manicure and then go for colouring the tips with an ivory shade. Don't be in a hurry, otherwise, you will ruin it all. Once the nails are dried properly, go for applying a nude shade on the entire nail and finally finish it off by applying a transparent shade again. So the only difference between the French and the American is the colour of the nail paint shade which is not very distinct or contrasting.
Gel Manicure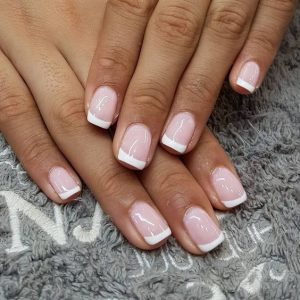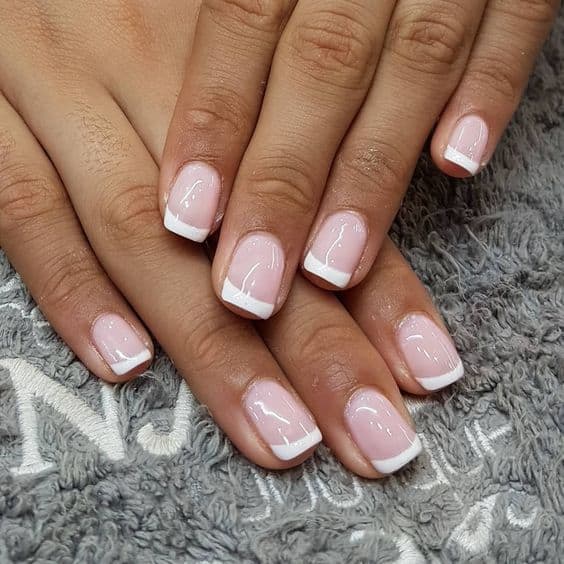 Gel manicure is the best manicure for natural nails. If you don't have very long nails instead of short and brittle. Then you can definitely go for the gel manicure. Gel Manicure is specifically for those who cannot manage long nails but still wants the best and pretty. Gel Manicure can make your nails look sleek and stylish. Basically, gel manicure is a type of nails manicure. No doubt that you can do it at home but the salon would give you the utmost perfection. The Salon employee is a perfectionist who can cut and clear. After this is done, the chemical gel is applied to your natural nails to create fake nails. And the next step is to cure your nails under UV or LED light. Once all this is dried and done, you can apply any colour or design or pattern that you always wished for or else you can simply leave it as well.
Acrylic Manicure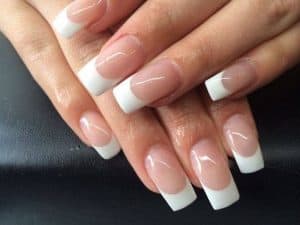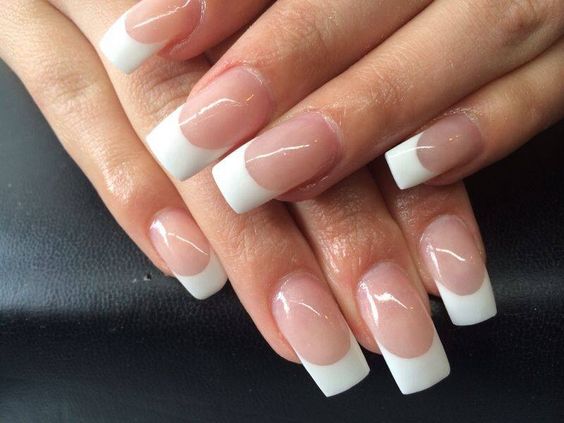 Acrylic Manicure is also similar to the different types of manicure as it is the application of artificial nails only. The only difference between the two is the steps are less in this one as compared to the gel manicure. You can get the readymade Acrylic nails that have to be attached to your natural nails. Also, It can be made from the acrylic mixture. Also, the gel manicure stays longer, quite expensive, and is odourless as well. You don't have to fear losing your nails. While the Acrylic nails are cheaper though you can easily lose it and that is going to cost you even more. You also remove your acrylic nails at home.
Paraffin Manicure
Are your hands too dry and overworked? Then trust me your nails require the Paraffin Manicure. Paraffin wax infuses the skin with moisture leaving the skin smooth and supple. In this Manicure, you will get a stimulating hand massage and finally a chic basic manicure polish look. While in some paraffin treatments, essential oils are used to massage for an extra moisturising effect.
Hot Stone Manicure
Hot stone Manicure is a very indulgent treatment that includes all the delights of a basic manicure with also the addition of heated stones. In this Manicure, the stones are placed over your hands to provide you with relief and comfort while the salon perfectionist applies the basic manicure on your hands.
Shellac Manicure
Shellac is one of the best Manicure that is described as a hybrid of gel and nail polish as well. It is also hardened or cured with the UV light. If you are wondering what is shellac then, the name comes from the first company that invented a type of polish. Also, it is less hard than gel manicure and gives an even more natural look. Also, it soaks off with acetone.
Regular Manicure
Finally, after all the golden words, I also want to make you aware of the basic manicure if you want to keep your hands neat and clean with no extra fancy element. Regular Manicure is also called as the Basic Manicure. The treatment involves soaking your hands in the soapy water in order to soften the dead cells. After soaking for sometimes, your nails are clipped and finally, the nail technician applies the different types of nail polish that you want. After drying, it is followed by the hand massage. Regular Manicure is fast as well as simple to do that you can even do at home. You can get the regular manicure done if you want to switch according to your outfits daily.
Spa Manicure
A spa manicure is a lot more than a regular manicure. It is also a hit among the millennials. Also, it lasts longer as it includes an aromatic salt scrub, an oil massage, and a hydrating mask on the hands and around the nails.
Brazillian manicure
Brazillian Manicure (1) is very much focussed on the cuticles. The procedure includes the removal of the cuticle to expose the nail bed. It is done using a special Brazilian clipper. In this, the nail polish is applied not just on the nails but also on the surroundings to make sure that even the edges are covered perfectly. Later on the extra is wiped off.
Mirror Manicure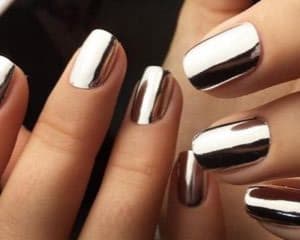 Mirror Manicure is specifically for those millennials who do not find a metallic nail polish that satisfactory and that's when they go for the Mirror Manicure. So the process involves applying a black nail paint as the base coat on your nails. After which you place a clear topcoat. Finally, you have to add a mirror powder that will help you achieve a chrome-y reflective look. Lastly, you add a final topcoat in order to get a mirrored look on your nails. The mirror manicure looks perfect and beautiful that you can even see your own face in your nails. Please look here for some of our types of manicure services.