If you've ever come across makeup looks that look too detailed and funky, that's e Girl Makeup. Yes, that's not just by mistake or a cosmetic experiment. The trend has evolved over the years thanks to social media platforms like TikTok, Instagram, and Snapchat. These days, you can even see a plethora of eGirl filters being circulated around. If you wish to try it on yourself, this article will help you out in all ways possible. For beginners and advanced artists alike, this info guide has something or the other to offer. We recommend you try the heart look first as it clearly defines what an eGirl looks like. If you've tried some before, simply go for the more dramatic options.
WHAT DOES E GIRL MEAN?
An eGirl trends come from TikTok who spends most of their time on the internet, social media, and gaming world. We begin with what exactly you should expect from the eGirl look (the typical makeup style). Then, there are some hints on how you can step up the game by careful observation and trials.
HOW TO CREATE AN E-GIRL MAKEUP LOOK
We have also formulated a list of trendy designs so that you have an idea of the current genre. Further, you come across a do-it-yourself guide that will help you master the art of giving yourself the perfect eGirl charm. Don't miss the videos at the end as they are the best that can be found presently. Go through all of this for the best experience as an eGirl.
Steps to master the typical one: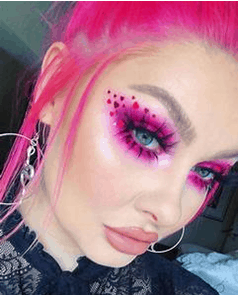 Okay, so what comes to your mind when you read "eGirl". If you've watched videos or reels before, a funky girl face might show up. For those who have no idea about it, we are here to sort things out especially for you.
Whether you choose to try this one or not, we must tell you that the starry-eyed eGirl makeup is the most popular one. Some beauticians even go to the extent of declaring it as the trendsetter. Follow the steps and BOOM! You're done!
For a lasting look, you cannot afford to ignore your primer. With all this hard work, no one would like the makeup smudging away just like that. This step will also help to keep your further steps in place.
Don't miss out on the foundation
As you are required to do bold makeup, the base is more important than ever. Don't go for a powdery one as the particulates might interfere later on. Go for your regular foundation but make sure you apply it evenly. A high SPF quotient is a plus point.
To showcase the eGirl look, you are required to do mostly what you don't do during the normal makeup routine. Add some blush to the tip of your nose. Make sure it doesn't look like a cold-struck nose. Choose the same color of blush as that for your cheeks.
The perfectly shaped eyebrows
This is the perfect zone for you. When you get your brows done, there's a particular shape you strive for. With eGirl makeup, just do the opposite. Shape them contrary to your normal style. Pointed brows and extended ones are much recommended. The inner creases should be detailed as much as possible.
There is just one tip for this – don't keep it simple. Just don't! Go for greens and pinks as they are known to highlight your eyelids more than any other color. You can even go for two shades but make sure they are contrasting. We recommend pink with green.
Skip the normal lining techniques
No thin strokes are allowed. Keep your eyeliner wavy and thick. Reason? That's the signature eGirl look. Take it as far as you want, no restrictions. You can apply double wings in case you prefer them. Skip the waterline makeup for this routine as the overall makeup is quite heavy. If you wish to modify it even more, just change the color. White eyeliner suits eGirl makeup quite nicely.
The most important – hearts
This is what you have been waiting for, right? There are several ways in which you can perfect the heart-laden eGirl look. Use your brow pencil to fill the hearts or leave them empty. Pick up your liner and begin drawing! There's absolutely no limit. Make one below your eyes or go for three. You can even make them on the sides. It's up to you how much attractive you want to make it.
Remember we skipped the waterline? That doesn't mean your lashes would stay sober. If you are not using add-ons, just apply the usual mascara to your lashes so that they aren't left ignored. To add volume, use two strokes at a time. You can use your curler as well.
Till now, we have done two out-of-the-box activities. Yes, hearts and blushy nose. Now? As we've come across doing what we don't do regularly, it's time to skip lipstick. It's normally a part of every makeup routine for girls. No, we're not asking you to keep your lips simple. Go for a scintillating gloss for a perfect eGirl look (finally, the suspense is over). Nude shades are highly recommended. You can even switch to purple or orange.
EGIRL Popular types:
Now you know the basics. This means it's time to move towards the complex forms. Once you begin doing eGirl Makeup, you are prone to get addicted. With such an addiction, you would require new designs each time. That is the reason why we have included extra types which have been in the limelight.
These are simple suggestions and you can easily combine the previous look or create your own unique avatar. The choice is completely yours! Have a look at the trendy four-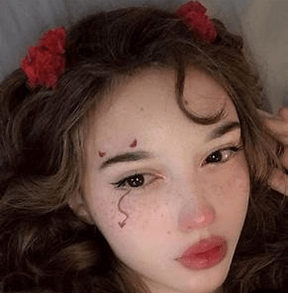 Play with your hair
More blush, even on the sides
Use two or three matching shades for eyes
Leave your hair open
Simple lips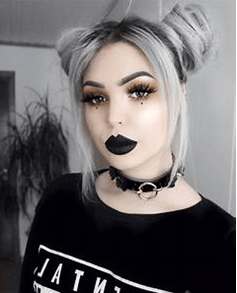 Winged eyes
Double eyeliner
Sticky studs make it elegant and cool
Twin-color gloss
Straight hair or a messy hairdo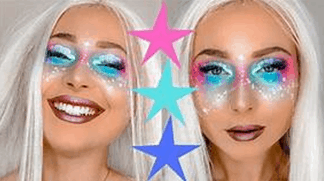 Paint complete galaxies
Replace freckles with stars or hearts
Use both lipstick and gloss
Exaggerated lashes
Matching lenses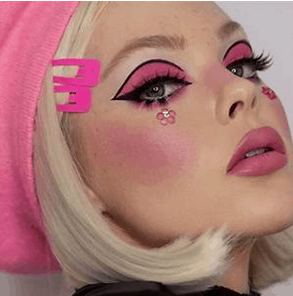 Slanting slits on brows
Get crazy with piercings
Broad lips
Pink hair add funk
More freckles, more fashionable
Egirl make up DIY guide
By now, you are much excited to don the eGirl look. Quite understandable! But how do you plan to enhance it? Our DIY guide is right here to sort that out for you. If the heart-eyed alternative didn't appeal much to you, the following variations are equally popular. Modify them as you wish!
An easy way to do away with your Monday blues is to opt for all-blue eGirl makeup. We recommend you mix aqua, sky blue, and royal blue. Try covering your lips with red. For nose and cheeks, go for light pink or peach.
Draw as many shapes as you want. Based on your eye shape, make small and sleek triangles below the edge. You can even draw them around the brows and freckles.
You just need to add golden sparkle to the typical eGirl look. That's it! If you wish, use golden clips on your hair and sparkle it up.
Contrast black and red liner for this look. Alternate the strokes and add shadow till the tip. On the nose side, keep it thin.
To amuse your viewers, apply two coats of liner and shade it up using brow pencils. Basically, you need to step up your smoky-eyed routine for this eGirl look.
Take a purple lipstick, purple shadow, and purple liner. You can add silver studs too. If you like bangs, Die them purple. For better highlighting, add orange here and there.
Something for the dark-skinned
Don't use black. Use a light green or purple liner. For hearts, you can choose white as well. Do not stick to the normal routine. Experiment a lot and modify your nose blush too.
If you don't wish to style up a lot, use nude shades and go for dark lipstick. Make it a point to use winged strokes for your liner.
Peach-colored blush is quite popular. You can use the same eyeliner as well. Try on small circles over a dark eyeshadow.
Eyes like a fox
Yes, we want you to customize a look as sly as a fox. Go for shades like orange and black for this one. Don't forget to darken your brows.
Meet the Egirl Makeup PROs
Now that you have had a look at the tips and tricks, it's time to learn from the propagators of the eGirl look. They tell you all that you need to know about this trend. Besides, there are certain bonus ideas as well. Watch the videos to get it all. We have enlisted here the top three tutorials which will help out the beginners get a seamless finish. These videos are just for reference purposes.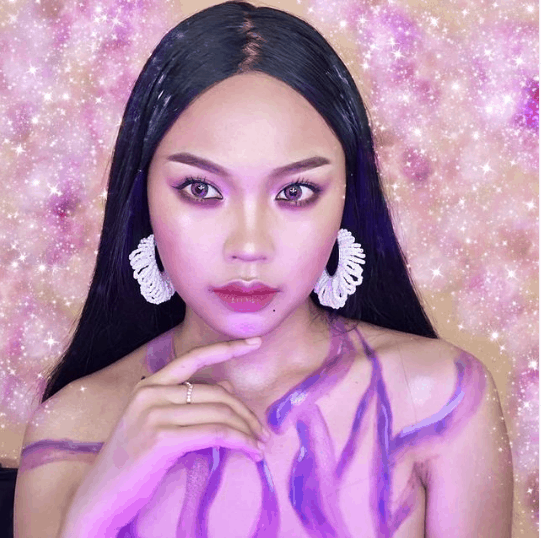 She teaches you right from the basics. Beginning with moisturizer, Leti Sha's tutorial ends at hearty eyes. The overall look is characterized by an aesthetic touch.
Check out Leti Sha's YouTube video here!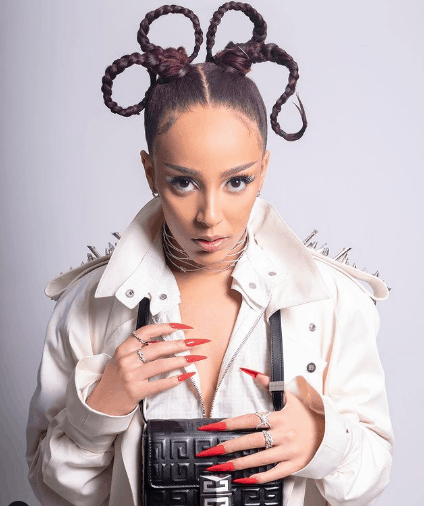 Doja is considerate enough, to begin with skincare. This is to ensure that the trendy makeup doesn't have an ill effect on your delicate skin. As you move forward, you get to know how she adds a natural touch to the eGirl look. By the end, you'll get a glimpse of the perfect hairdo as well.
Check out Doja Cat's YouTube video here!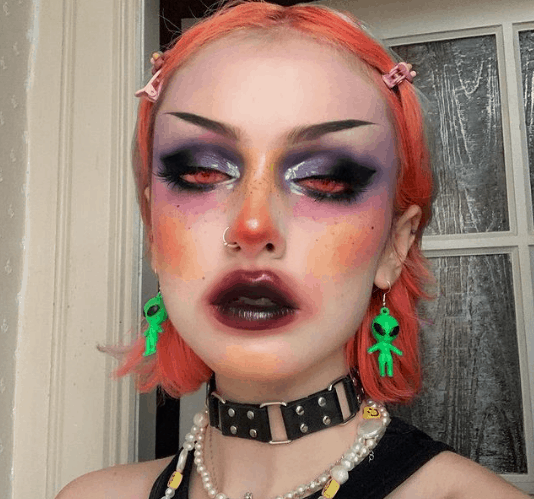 Here, you get to know a lot more than just eGirl Makeup. The YouTuber has a host of other ideas for clothing, hair styling, and even suggests names of stores. In other words, it is a complete head-to-toe guide towards becoming an eGirl.
Check out Eva Frsr's YouTube video here!
Conclusion:
Whichever edgy look you choose for yourself, make sure you follow the tips we have mentioned. It is not compulsory to keep changing your hair color or get pierced heavily. Going for temporary options is equally appreciated these days. Don't forget to boast off your eGirl look through pictures!
A quick summary is sure to help you out. Have a look –
Go slow
Accessorize your look for added glam
Choose unique colors
Focus on your eyes
Lip liner can add a goofy touch for sure
Freckles easily enhance the signature look
Wear sassy clothes to complete your overall look
Do not go for a look that doesn't suit your personality
Try stars and hearts alternatively
Apply the base coat evenly
Don't forget to remove the makeup before going to bed
Experiment freely!