Sabyasachi Mukherjee
Sabyasachi Mukherjee is a Kolkata based Indian Fashion Designer and Couturier. He enjoys the cults following, especially among the brides-to-be. Sabyasachi Mukherjee completed his graduation from the National Institute of Fashion Technology India. He always wanted to do Fashion Designing from NIFT, but his parents disagreed. So he sold his books and paid his admission fee and passed his exam.
Reminiscing his Childhood
Sabyasachi Mukherjee lived in the suburbs of Kolkata. He went to a Convent school where he took Christian Louboutin. He read a French signboard there that said, Primary school for little girls. He used to go to his school days in a hand rown boat. Also, they used to have music lessons during the journey to school with Rabindranath playing. He had an amazing and magical childhood that has made him what he is today. He has a very simple nature.
He won three major awards and started his label in 1999. Sabyasachi Mukherjee also won the Femina British Council's most outstanding young designer of India award in 2001. Also, the Designer of India award led him to an Internship with Designer Georgina and Etzdorf in London. Sabyasachi Mukherjee began retailing at the major stores in India. Sabyasachi Mukherjee made a debut on the International runway at the Mercedes Benz New Asia Fashion week in Singapore in the year 2003. Sabyasachi is the only Indian Designer who has yet been a part of all the prominent fashion weeks that are- New York, Milan and London respectively. He hs majorly specialized in Indian Bridal wear and his Design Philosophy is 'personalised imperfections of the human hands'.
Sabyasachi Mukherjee is one of the hardest designers in the country to pin down even for a comment. He likes to keep himself busy. Sabyasachi Mukherjee has dedicated twenty years of his life on a one-track mission to create India's most Iconic Brand. He has overcome all the criticism, self-doubt, and don a lot of personal sacrifices to come alongside meteoric success and worldwide recognition.
Sabyasachi Mukherjee has always envisioned himself as one of the greats. He has constantly pushed himself towards what he always aspired to be. Sabyasachi tasted success very early right after he came fresh out from NIFT Kolkata. His first collection for Lakme Fashion Week was very well received for which he became an overnight hit. He didn't even know his customers when he attended that big event. Also, he had no idea how the press works for the show. So he attended the even with a little bit of instinct and common sense. He waded his way through deep waters to figure out what he was supposed to do.
Sabyasachi Mukherjee worked harder to feel as though he had earned every bit of his accomplishment. He successfully secured scholarships to intern overseas – the V& A. Azzedine Alaia and Jean Paul Gaultier- to learn the couture and fine arts. He also worked with Sangita Kathiwada of Melange on an exhibition. All this was pressurising him as so much was given to him in such a short time that had put him in huge self-doubt. And he was afraid as all of it would be taken away by him. From that point of time, he made a resolution for himself that he has kept till date. And that is, if he needs to sell his clothes, his clothes should speak for themselves. He maintained to create a strong language and a visual identity for the clothes so that people could see and identify his clothes without the need for any explanation.
Sabyasachi Mukherjee is the one whom the world relates to vintage, aesthetics and handmade
Sabyasachi's beautiful creations make women feel like the queen of eras that have gone far by. He has a unique brand positioning. His creations make an everyday woman feel royal and empowered. No other designer has yet reached this feat.
Sabyasachi Mukherjee has designed beautiful collections for so many Bollywood beauties that everyday women look up to and relate as well. He launches several products like jewellery, purses and footwear under one collection. He highlights the vibrant Indian culture in all his collections.
His stores are like his own house for woman's bridal wear, jewellery. ready to wear, saris and kurtas
His work is seen in the right circles but not him. That is the identity he has created for himself. He has exited the formal cycles of fashion weeks in the country in the past few years. He chose Instagram instead to create occasional private viewing for select press and couture customers.
He has a fantastic journey of twenty years of designers collaboration, dressing celebrities, creating couture, and lavish weddings in the world. He firmly believes that he has grown along with those who build with him on his journey. He used to struggle a lot during his childhood for money, and that's when he decided to opt for creativity as a Business that became his hobby. Being in this business has made him so independent, and also he has created a lot of opportunities for empowerment for the people working with his Brand.
Sabyasachi Mukherjee's focus as by now you might have understood is Bridal couture. He made a seismic shift in the way people dress in this country. What has become synonymous to the Brand is the high-waisted lehenga, the long-sleeved blouse, and the conservative neckline and the old worldly embroidery.
Since he creates a big trend down the line in the economy, he is happy with the fact that his clothes are getting copied. It merely means that he has a bigger audience for his clothes than the one he caters to. He also had to undergo a lot of criticism by people saying it as Backward, repetitive, and regressive. But one thing that he has learned in his 20 years of career is, 'Iconism can only be created through repetition'. He actively wants the Brand to be Iconic.
He admires Aneeth Arora's label Pero in the Industry.  He thinks that she has created a Universe within her Brand. He believes that her vision and language of the Brand is so strong that people who buy Pero will keep on buying Pero for the rest of their lives. Also, he firmly believes that her Brand is not trying to hog the limelight, but she creates beautiful clothing. Othe Brands that Sabyasachi Mukherjee admires are great together as a team and that are – Maria Grazia, Chiuri, Pierpaolo, Piccioli. Sabyasachi honours these Brands a lot, and he has a great sense of dignity to what these Brands do individually as well as collectively.
What he still believes and even wants to tell out loud to his people is that 'One should work on personal relationships, keep your friends and travel more often'.
Sabyasachi's  Spring/ Summer Collection 2020
Source- Pinterest
Sabyasachi's collection for this year's summer will be on all his fan's list who are planning to get married this summer. From the fuss-free caftans and togas to the organdie saris. Sabyasachi has already set to dominate the wedding mood boards for this season.
The release of Sabyasachi Mukherjee's spring/summer collection on Instagram does feel familiar yet different at the same time.
His newest offering is called 'Fiza'.The couturier continues to surprise by crafting couture out of flimsy organdy and adding chintz floral to menswear. The designer serves up to the frivolity of the season with fuss-free silhouettes in unassuming organdy with a promise of summer beckoning around the corner.
The colour palettes of this spring/summer move from earthly neutrals that you will want to bookmark for your mehndi rasam on your calendar. The designer's lexicon of summary silhouettes includes the twirl-friendly togas and caftans as well as hand-crushed saris punctuated with baroque embroidery, bearing in mind the demands of the season.
The designer also offers a western-style veil apart from the rectangular dupatta to the brides who a fairytale wedding just like Priyanka Chopra's wedding attire.
This season heritage jewellery kit includes the Expert uncut diamonds, sapphires and Colombian emeralds with the motifs such as hand-carved peacocks sculpted out of 22 karat gold.
The couturier's flair for whimsy stays alive for the choice of fabric for wedding lehengas- the humble khadi while keeping up with the convention. The designer keeps on coming back to Khadi no matter what. Because for him, it is equivalent to wellness, and he thinks that nothing can be more luxurious than that. He is the proudest of nothing but his Khadi Bridal Lehngas combined with Indian Jewellery and flowers. He believes that Khadi creates a very potent and timeless image of itself. Most of the Designers customers globally have chosen to wear Khadi lehengas for their small weddings. But most of them aren't on Instagram so many people wouldn't be aware of it.
New York Fashion Show Week
Sabyasachi Mukherjee says that it is the fashion for a peace initiative that involved Sadhguru Jaggi Vasudev, Norma Kamali, Mara Hoffman and Mimi Prober. The idea behind the show is to raise awareness of the dying techniques in Indian Textiles. Sabyasachi Mukherjee is a textile Pundit who has been working with 400 counts Khadi and that the most Expensive kinds.
Sabyasachi has also collaborated with Christian Louboutin, who is a famous shoe designer. Not only has this, but the brand been featured in many popular publications and even in social media platforms as well.
Social Media
Sabyasachi likes the way he can directly reach out to his customers. He shows the world his best through social media. He believes that everything on Instagram is curated well, and he writes all the notes that accompany his every picture. He draws all the thoughts from his personal experience, impressions and knowledge. All that he sees and experience feed into his work. Social media is like an exhibition he believes.
Karigars
Sabyasachi Mukherjee works closely with Kaarigars all across the country to produce jewellery of intrinsic beauty using techniques followed by the principle of old jewellery making.  He states that there is a clear difference between something that is mass generated, and that is created by hand. Everything does slow down, but the result is exceptional.
Strong Foundation
Sabyasachi Mukherjee's Grandfather used to buy a lot of beautiful jewellery for his wife and his daughter. Sabyasachi Mukherjee grew up seeing all that. While on the other hand, his father taught him the importance of creating value and that there is no value without a proper foundation. The Designer believes in keeping things timeless and classic aswell. All his life, he has lived on one motto, and that is, 'Be the change that you want to see'. He says that he has done it with his clothes, but he also wants to do that with his jewellery as well.
No doubt, he is softspoken and polite, but he is unapologetically his person. His opinions are candid and unfettered by political correctness. He also never hesitate to criticise the Industry as well.
Sabyasachi's Lehengas aren't just for the thin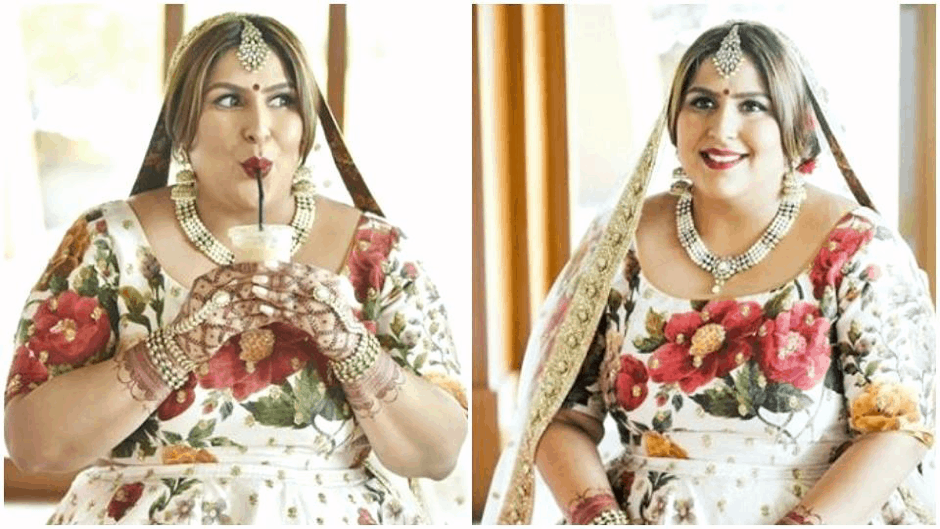 Source- Pinterest
Sabyasachi's wedding Lehnga is for everybody and not just the skinny. He also has plus size beautiful Bridal Lehngas. One of the Bride wore a floral plus-sized Lehnga of Sabyasachhi that grabbed three lakh viewers attention. The Plus size Lehngas not just fits the bride, but it also enhances her beautiful assets. Sabyasachi's Lehngas has made the worlds brides believe that who they are and how they look is enough to be truly happy, and that is enough to feel beautiful on their big day.
The Artist has carved a niche for himself a whose passion for Indian Handicrafts is paramount. He believes that for the luxury handicrafts to be in the light, people need to be enlightened about it and its importance as well. And that In the growing era of digitalisation, only handmade is going to be the true luxury as these traditions are becoming rarer.
Over the years, his label has raised y=the handmade component of his clothes to about 80 per cent. Also, Sabyasachi Mukherjee takes pride in the fact that the replica of his products are embracing his work, and it also creates a lot of employment.
He is happy to influence an entire generation of clothing manufacturers to be able to adopt Indian handicrafts. also, Sabyasachi Mukherjee has done a handful of films like Black and Ghuzaarish.
Sabyasachi says that Indian aesthetic has always suited the Indian body type, and now it is measured by culture and other things. Earlier it was all about a fashionable woman, but now its about stylish women. And style is about one particu; lar individual more than the world and it is your own. It is like the churning of the ocean and people are getting polarised. There are more fashion dropouts than fashionable people. But he strongly believes that you should have some iconism rather than being a new person every day.
What Sabya strongly believes is style is about a woman who is 5'1" but still wears flats to the party and that style is all about confidence.
Sabyasachi Mukherjee has two customers, one set who believes in his brand and the other who needs the Brand. His customers are free to buy his clothes the way they want to interpret it.
Sabyasachi, who is good at public speaking, has always been shy around a woman and he cannot talk to a woman alone. While talking about the customisation of his outfits, he said that there is no customisation available at all. Because if the customers want to change, then they shouldn't even be buying Sabyasachi.
He explains how people are only serving customers insecurities, and sometimes the customers are wise enough to walk out. And the Brand makes timeless and classic clothes. Most of the customers buy his clothes with immense pleasure, and they think they can pass them on and it is like marriage. The Brand doesn't design for one night stands.
Passion to Design
The Designer has a great passion for Design. He creates Designs all the time, and it might be a little weird for other people, but he works from 7 am to 2 am. For him, Luxury is rarified. And he has everything but no time. He believes that anything that is time-bound, it becomes luxury, and it can be anything like Biryani, Block printing, etc..
 The Unique Sabyasachi Lehenga Colours
No other Bridal Lehnga Designs are as popular as of Sabyasachi Mukherjee, a man who dresses up stars and celebs on their wedding days and so many other brides as well. But in the end, we see all similar sabya Lehngas that we lose count. The brides who wore some offbeat Lehengas are in amazing colours that are hard to come by.
Rustic Maroon Lehnga – Isha Ambani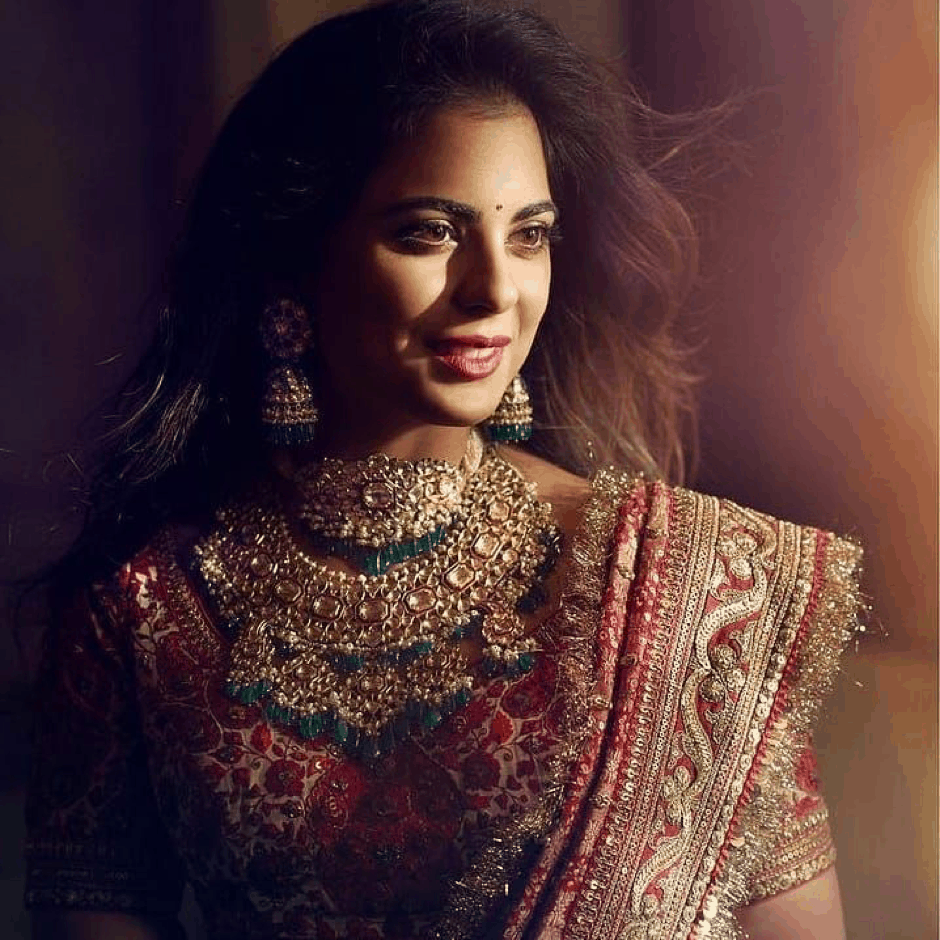 Source- Pinterest
It's a dull shade of Maroon – almost wine that we don't come across often. It has a dupatta that is custom hand-painted, hand-embroidered tilla- work Lehnga and antique bandhej dupatta. The outfit she is wearing is a part of India RevivalProject by Sabyasachi Mukherjee.
 Offbeat Floral Lehnga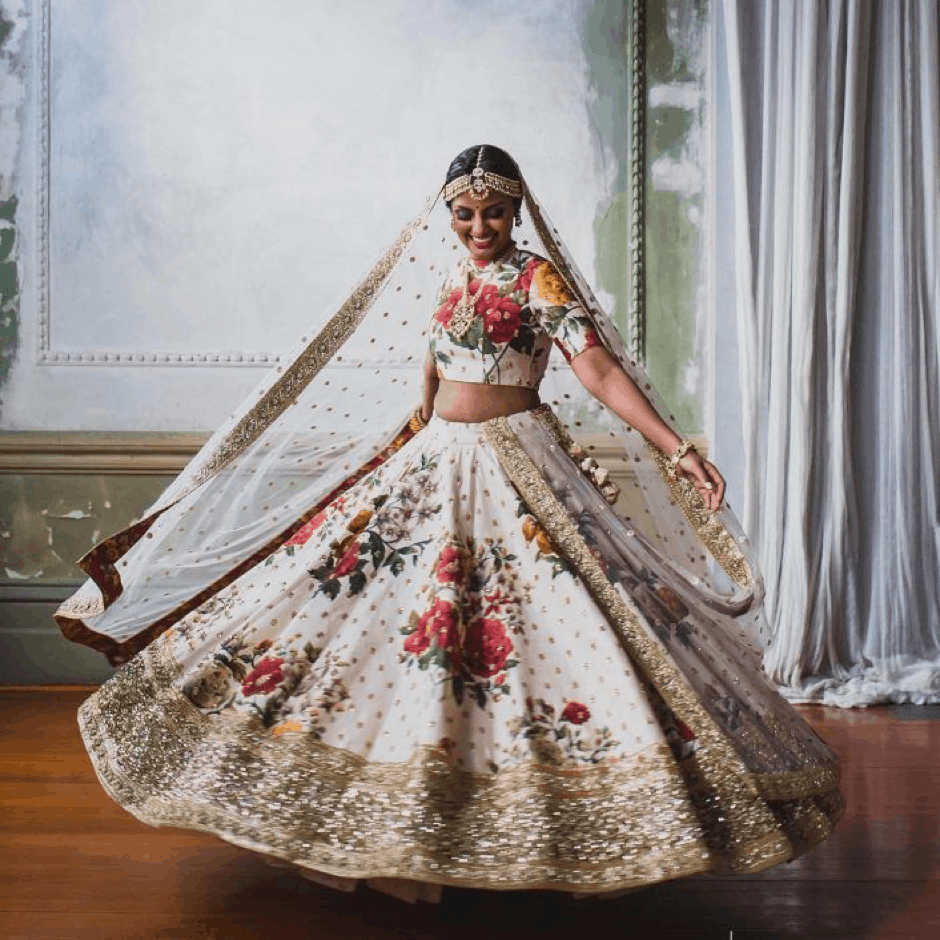 Source- Pinterest
Bold florals for a summer bride grabbed everyone's attention
 Beige – Ivory Lehenga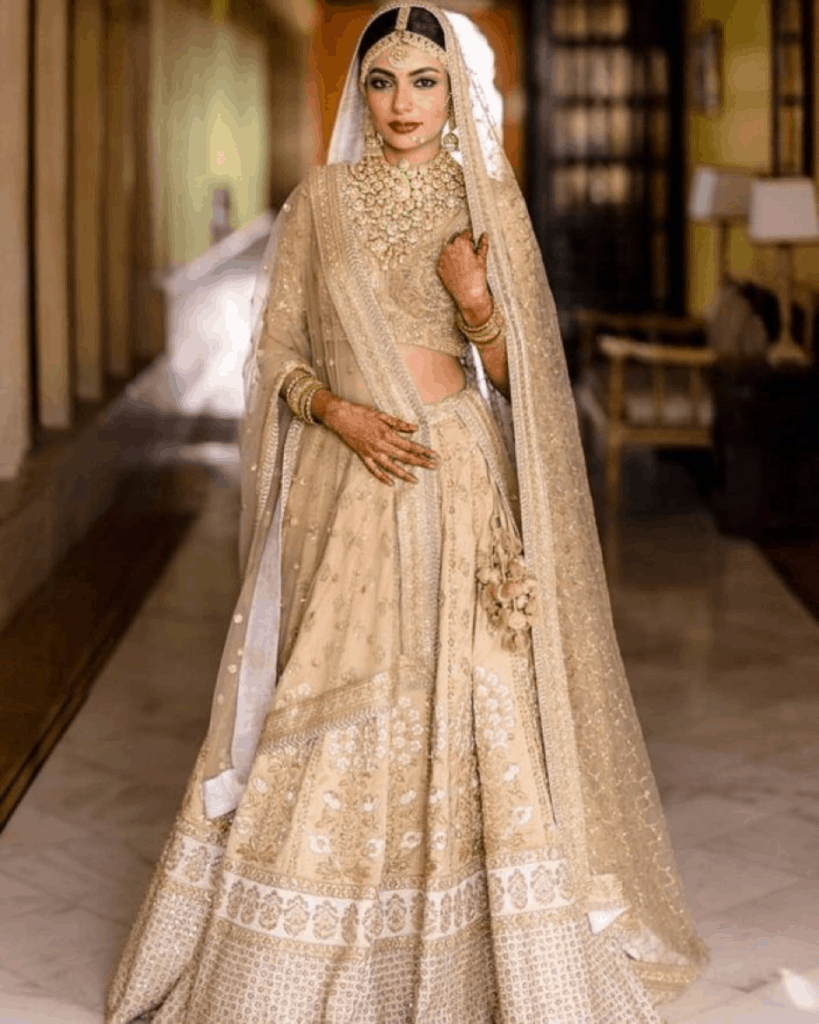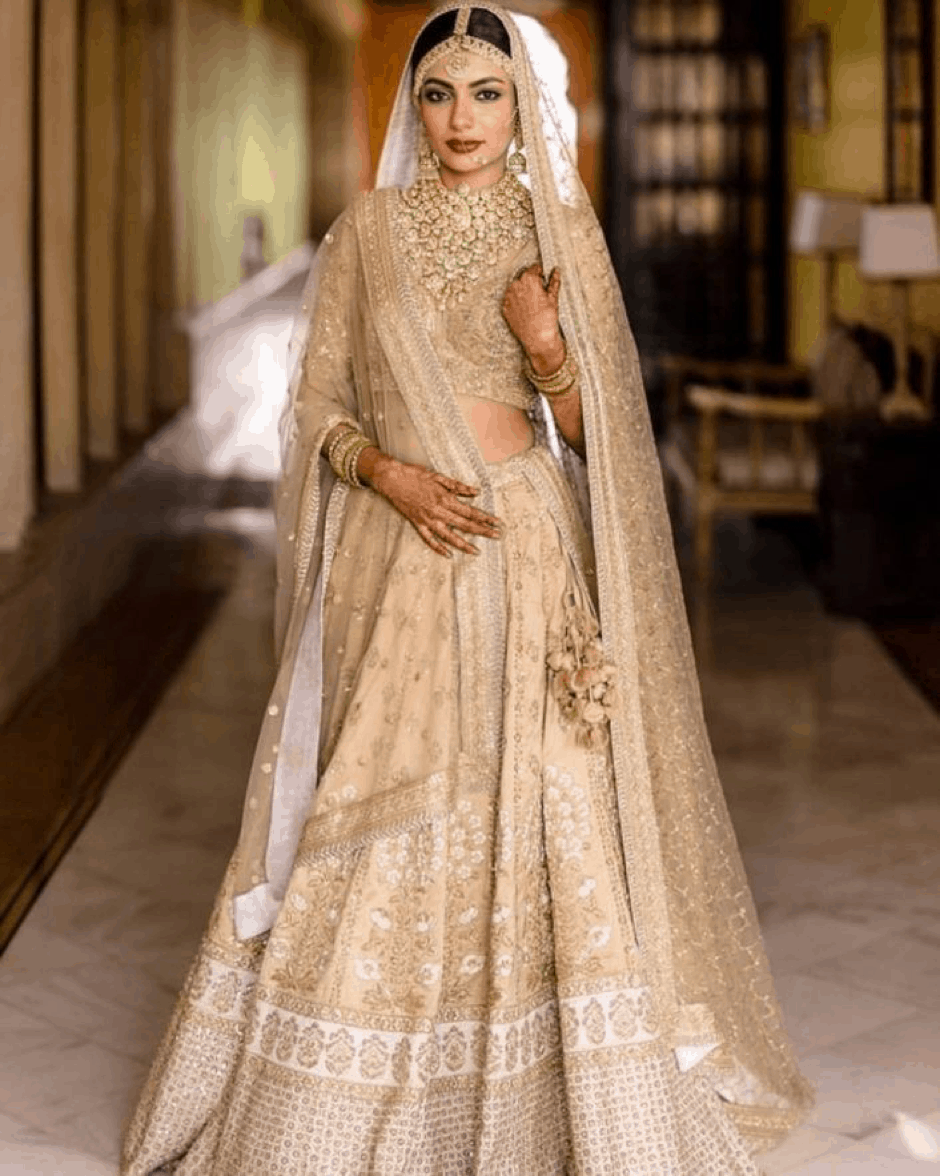 Source- Pinterest
This one is gold and ivory but is a little subdued and is gorgeous and new.
 Bottle Green Lehenga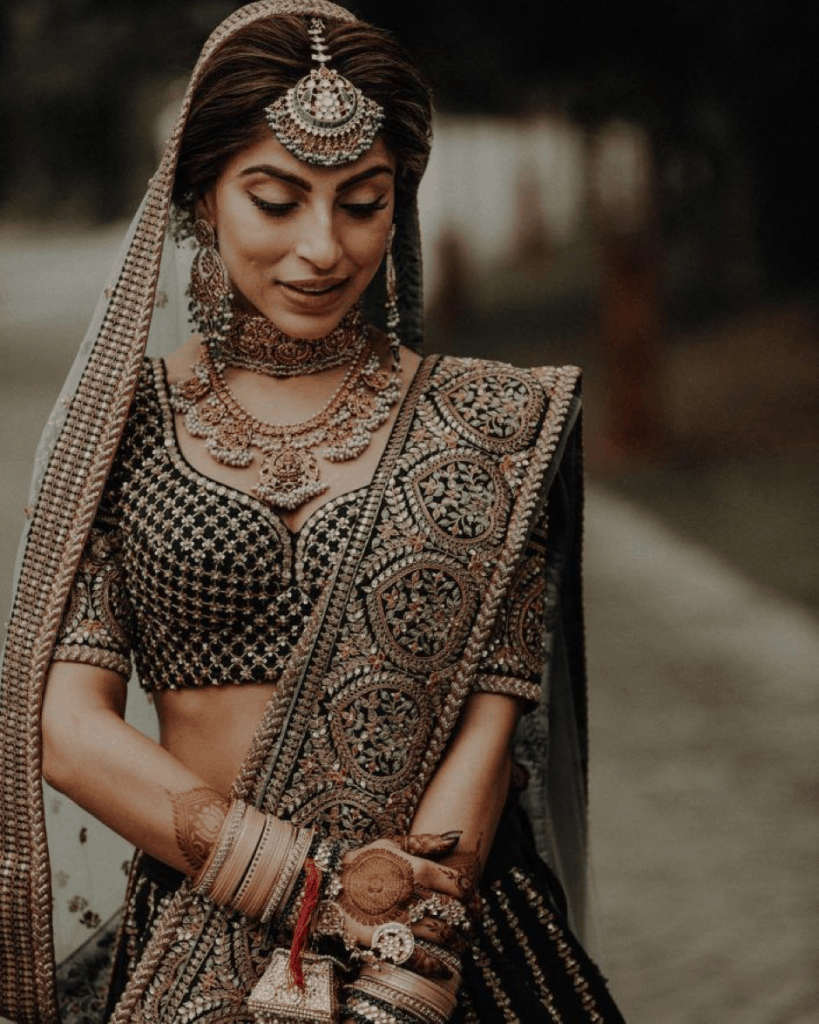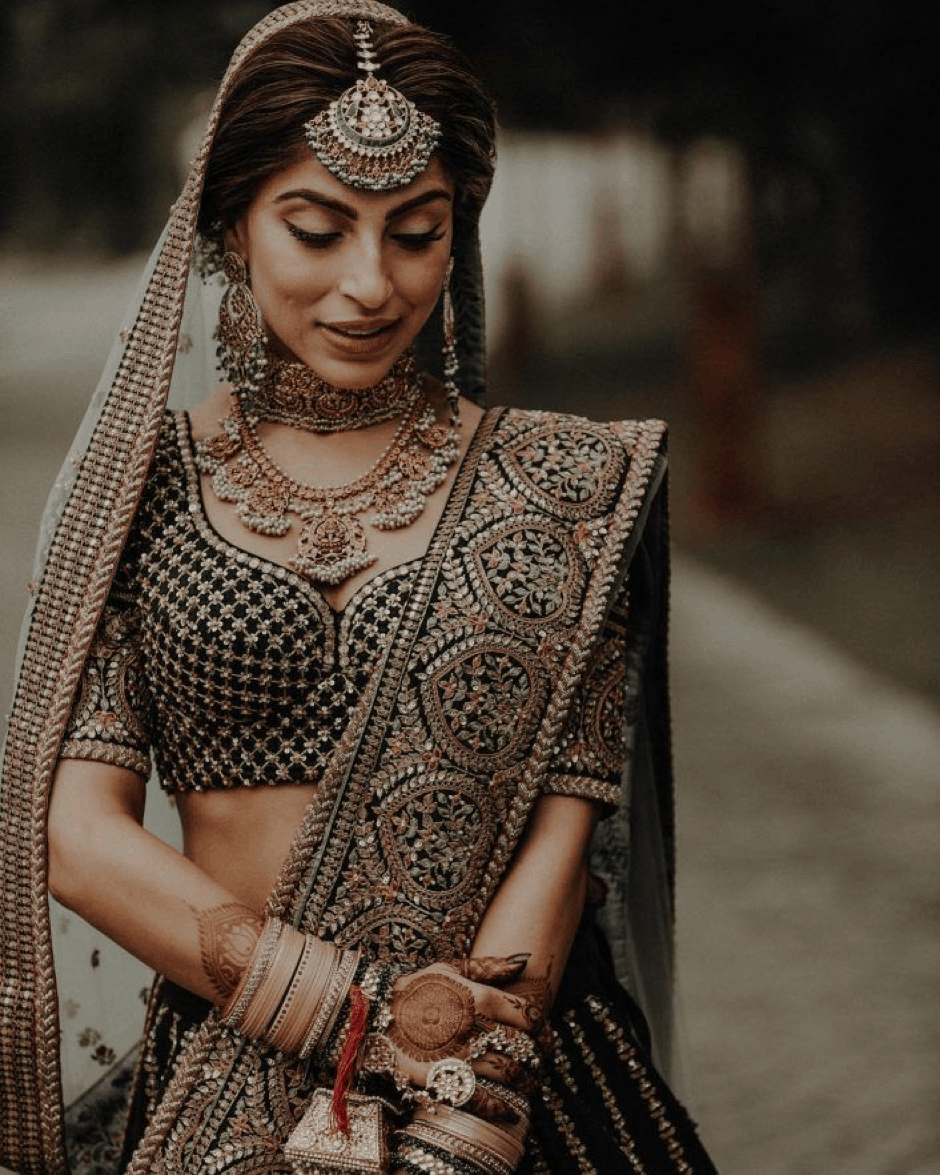 Source- Pinterest
It's an offbeat Sabyasachi's creation and the shade is particularly the one that we do not normally see on a bride and looks elegant.
Aubergine – The perfect shade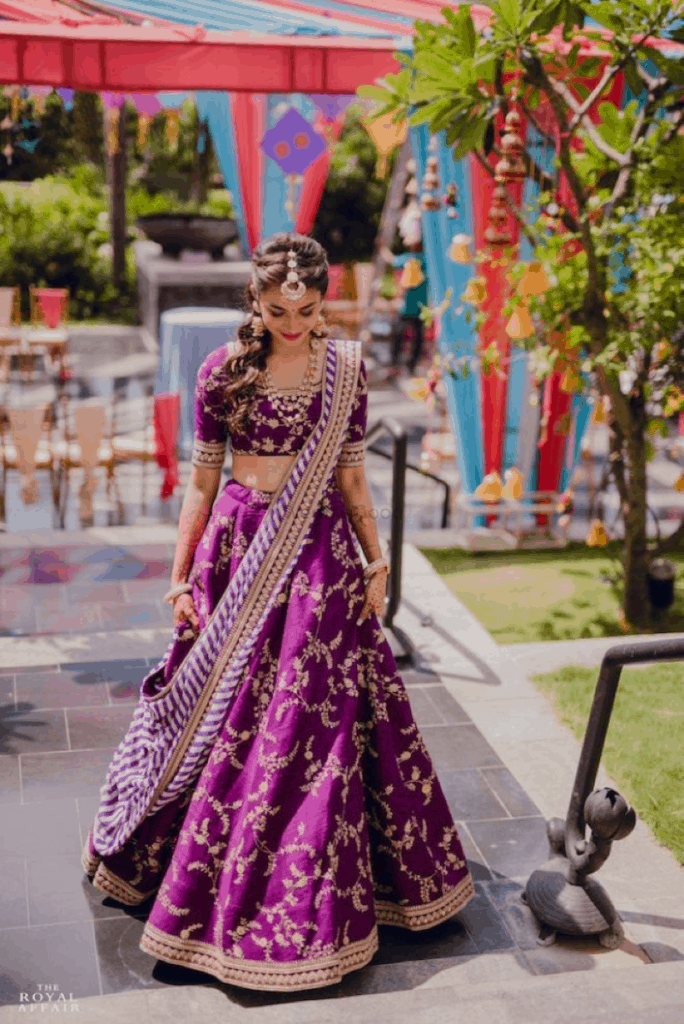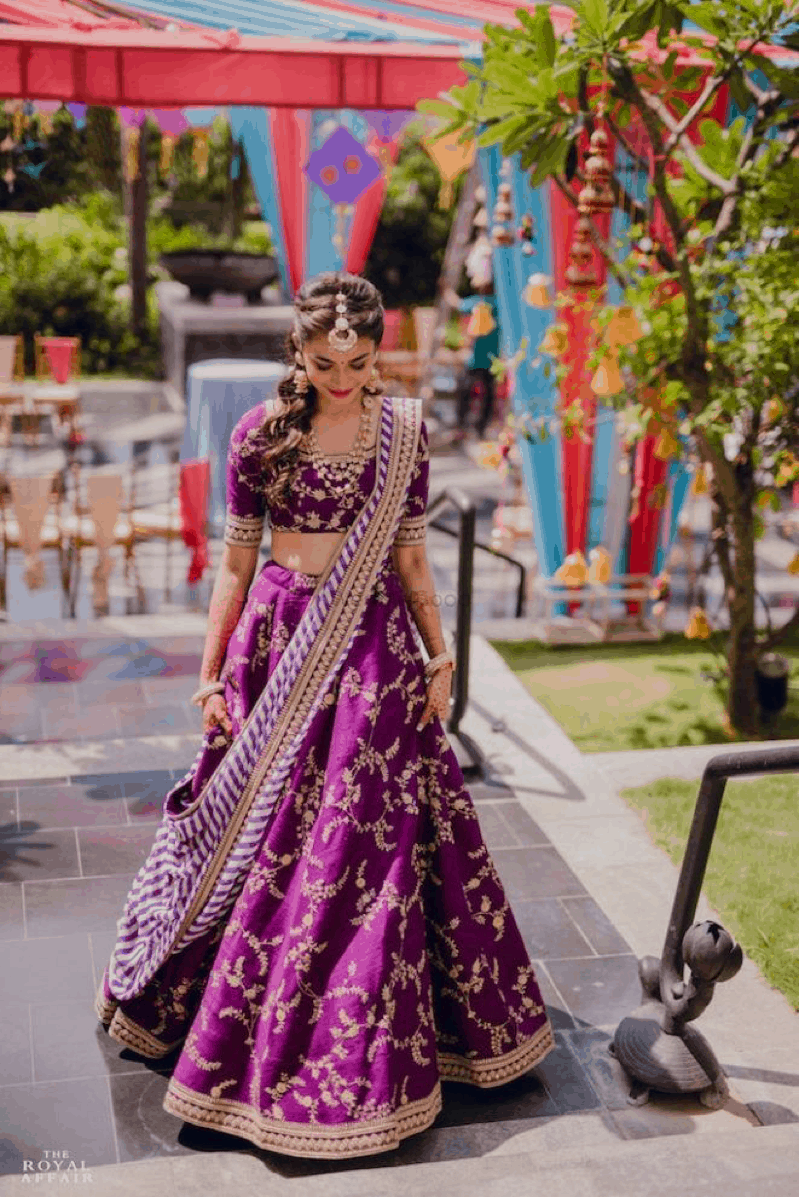 Source- Pinterest
 It's a perfect shade for a bridal lehenga that is eye-grabbing and pretty.
When one thinks of Sabyasachi, what one remembers is saree and Lehenga. And that is how two of them have been connected for several years in Indian Fashion. Sabyasachi's creative vision has soared to great heights while staying rooted in the inherent glamour and tradition that India has to offer in  Fashion. His designs are considered as the designs of past, present and future, and that's what makes him the leading contemporary designer.
Sabyasachi has described his style as the personalised imperfection of the human hand. He draws his ideas from his surroundings and childhood. Kolkata's imprints and backdrops have left a never-changing impact on his mind that is visible in all his designs and creations. Even it is gypsies, deserts, antique use of fabrics, textiles, and embroideries, everything gets woven in a beautiful sari. His trademark is different patchwork designs on vibrant colours. A unique blend of colours and fabrics gives his designs a unique twist to it. One cant normally thinks of putting four different shades in 4 different sections of a Sari with a different design, but the final product by Sabyasachi is very amazing and perfect as well. And finally, customers get compelled to think that yes, it is possible and achievable.
Vintage and old-world Indian charm are very apparent in all the motifs and techniques used by the Designer. The Designer describes his work as 'International styling with an Indian Soul'. The whole Fashion Industry has taken up modern techniques and Designs. But the Designer Sabyasachi's creations are really what India is or wants. But also some of the International Artists like Monet and Henry are his source of Inspiration whom he looks up to.
Present-day Scenario
There is no Bollywood Actress who hasn't worn a Sabyasachi outfit. From Aishwarya, Vidya Balan, Sri Devi, Rani Mukherjee, Deepika, Priyanka, Bipasha to the timeless beauty Hema Malini. All of them have worn a Sabya Sachi Salwar Kamiz or Sari or Lehenga.
Even in the Cannes Film Festival, Vidya Balan- popular Bollywood Actress wor Sabyasachi Sari or Lehenga.
Also some of the International actresses like Reese Witherspoon, Rene Zellweger have greatly supported his collections so far.
Future Foretold
Sabyasachi Mukherjee has also taken great initiatives in reviving certain embroidery types and textiles in India other than just sticking to Lehengas, sarees or Kurta. He started a project 'Save the Saree' where his handwoven saris are made of a non-profit basis priced between 2k to 4 k. the remuneration goes to the weavers of Murshidabad. He has greatly revived the use of Khadi in the world of textiles and Fabrics. Sabyasachi Mukherjee is the youngest board member of the National Museum of Indian Cinema. He has also started a collection of Kid's Wearcalled as 'Chota Sbhya'
Most of Sabyasachi's creations are a unique fusion of different geometrical patterns or colour.
Fashion Collection
Sabyasachi uses Banarasi fabric mostly in all his collections.
Sabyasachi Mukherjee Lehenga
Sabyasachi Lehengas are jawdropping beautiful, no doubt. It comes in all colours from Lush Florals to monochrome magic. All his creations look extravagant to the core.
If we take the example of Virushka, Anushka's Bridal dress was heavily embellished accompanied by the glittering Jewellery.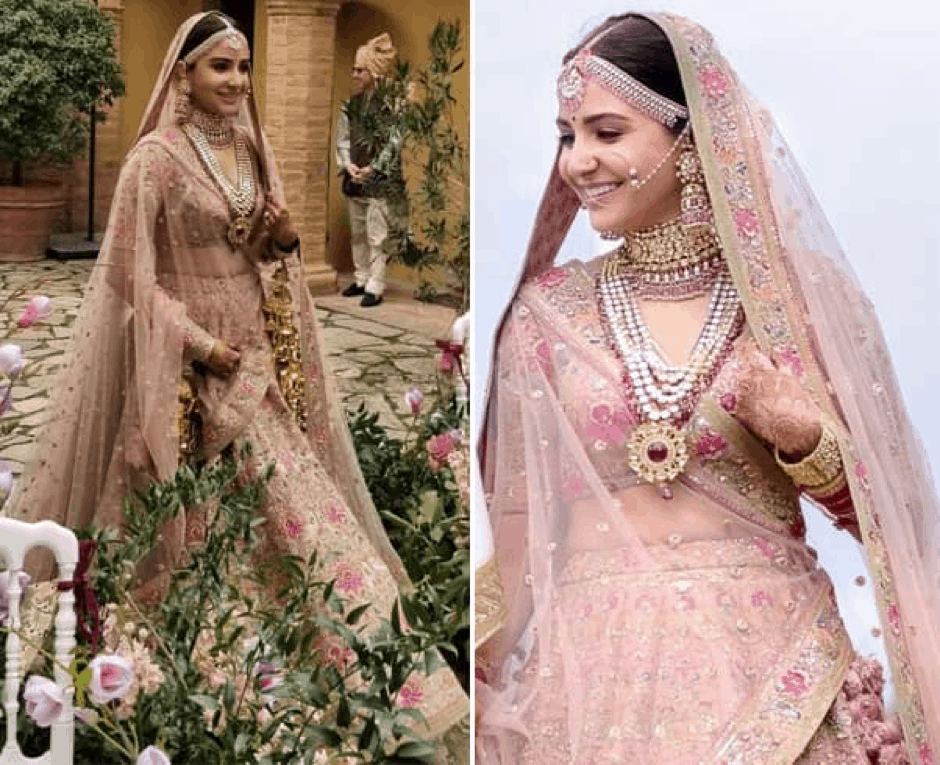 Source- Pinterest
The Bridal Lehenga is done in Pink with Zardosi embroidery all over. And the golden dupatta has 4 sided embroidered border.
Sabyasachi MukherjeeSarees
Karisma Kapoor in Sabyasachi Saree in Lakme Fashion Week 2016.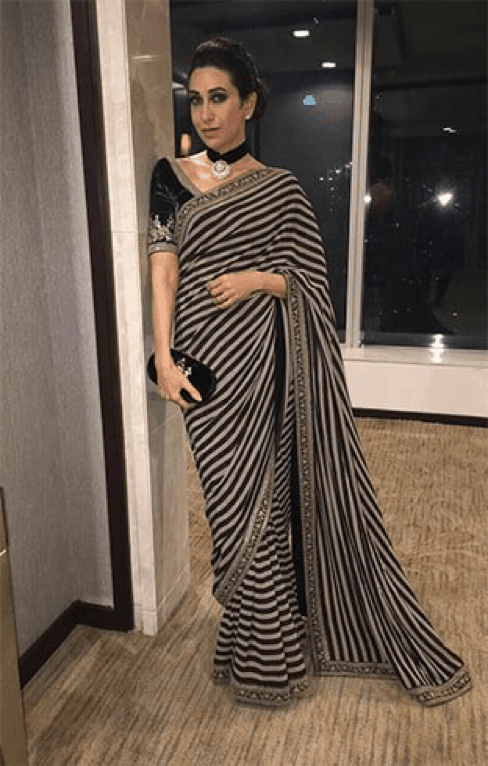 Source- Pinterest
Sabyasachi Mukherjee Dress
Sabyasachi dresses are stunning as well, undoubtedly. The traditional workmanship and the way he plays with the colours in all his designs transports one to an era where everything is just perfect and beautiful.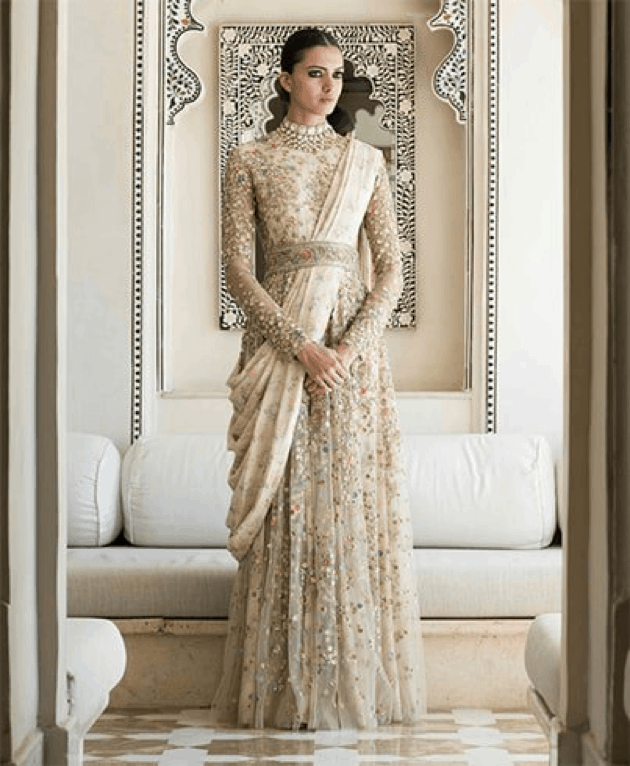 Source- Pinterest
This cobalt blue Anarkali by Sabyasachi with fish scale gold embroidery on sleeves and dupatta is enough to take one's breath away.
It's a full sleeve ivory kali daal made of tulle fabric and Embroidery all over, and that is enough to leave one spellbound. For the accessories, a printed dupatta is draped across the shoulder with an embellished belt.
 Sabyasachi Anarkali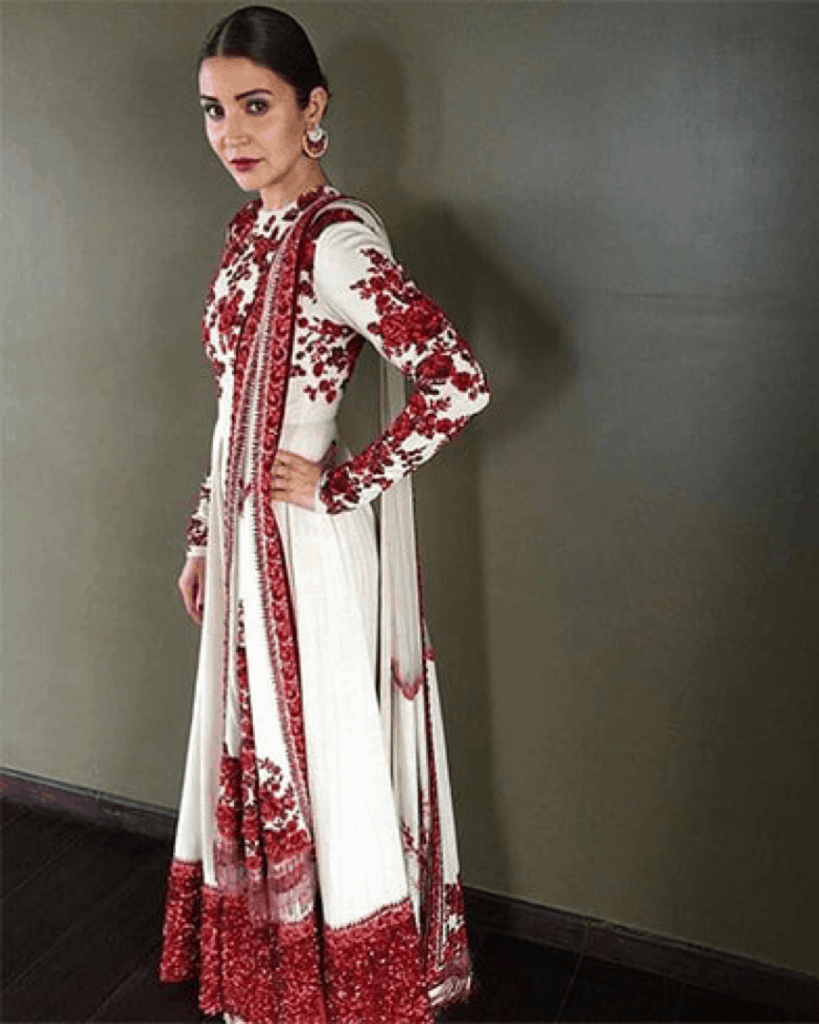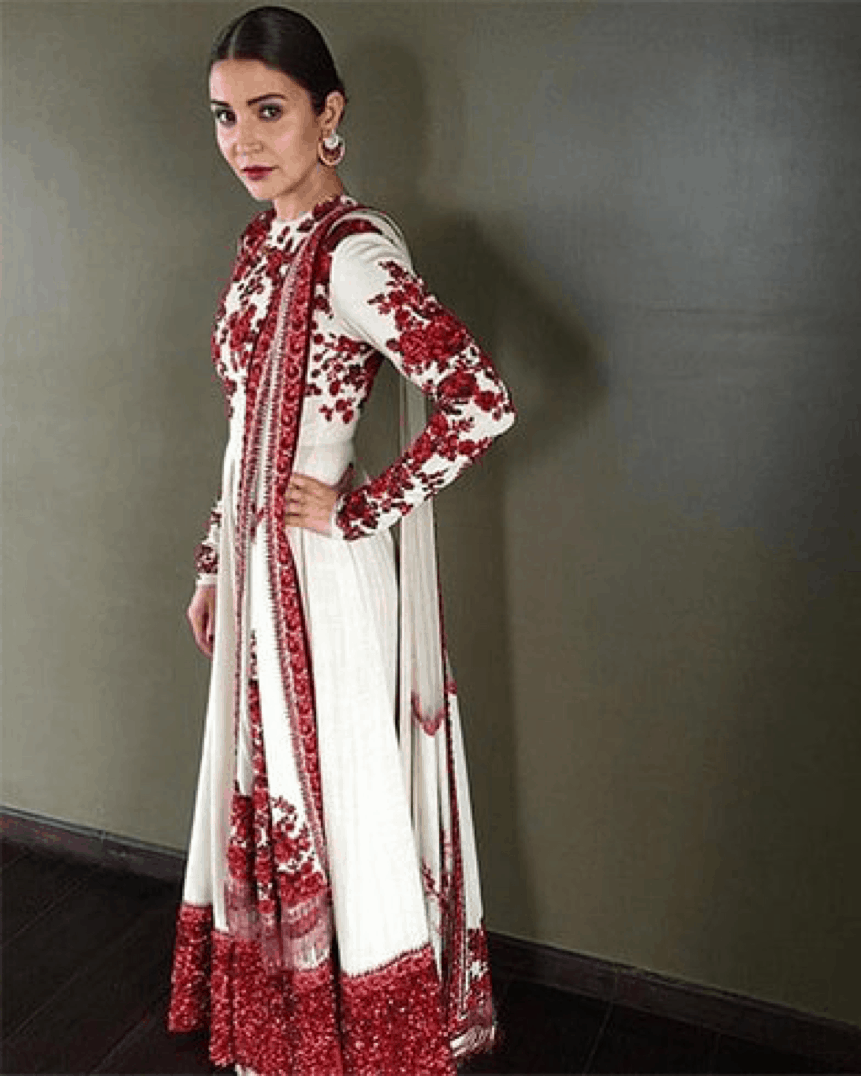 Source- Pinterest
Go in a Sabyasachi Anarkali even without any second thoughts. It will make you look dazzling and breathtakingly beautiful. This elegant dress worn by Anushka looks supremely elegant for daywear and cocktails as well. It seems suitable for all possible occasions.
Sabyasachi Mukherjee Gowns
His creations are not limited to Sarees or Lehengas, but he also goes beyond it. There are also Sabyasachi gowns for you. All his gowns have sartorial details to make you shift from Bridal Indian couture to western craft.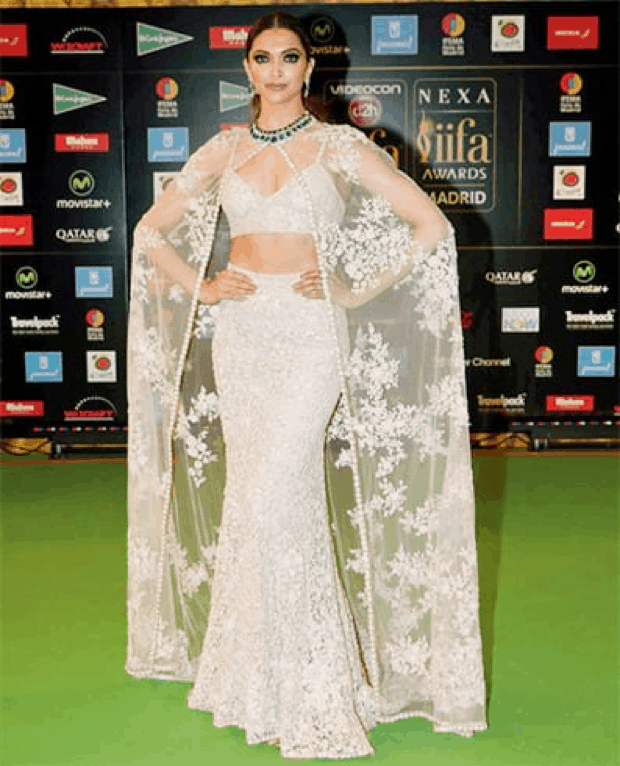 Source- Pinterest
Deepika Padukone looks truly stunning in this white SabyasachiGown at IIFA  Awards in Madrid. The outfit comprised of a short blouse, a Godet skirt, and a cape.
Sabyasachi's international Wedding Collection
The designer announced the launch of the International wedding Collection with Retail Chain Lane Crawford, Hong Kong leading to the world of couture gowns. It has a delicate veil, flapper style dress with a white gown.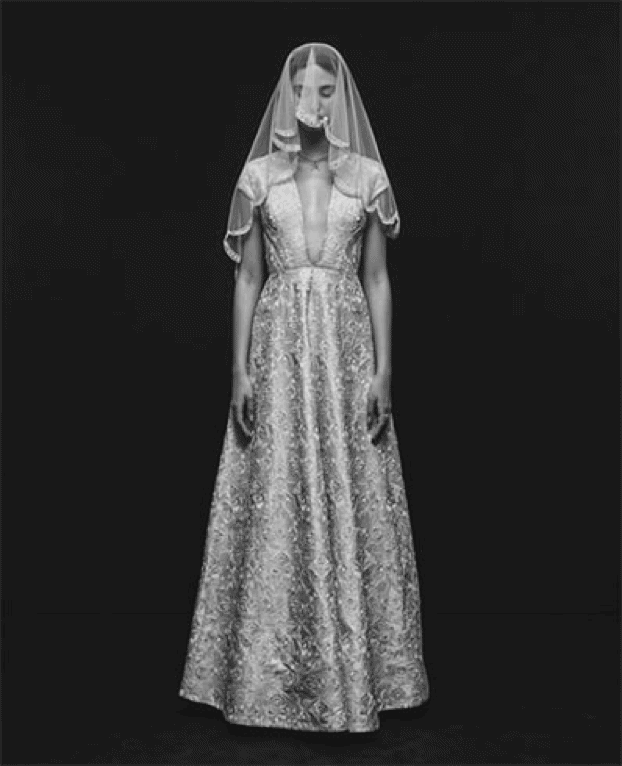 Source- Pinterest
Sabyasachi Jewellery
As mentioned earlier, Sabyasachi is very fond of jewellery because of his Grandad's craze for it. While growing up, he spent hours rummaging through his mother and grandmother's Jewellery cupboard. And their taste for jewelry was exquisite. And that is what motivated Sabyasachi to fulfill his ambition for Jewellery Designing.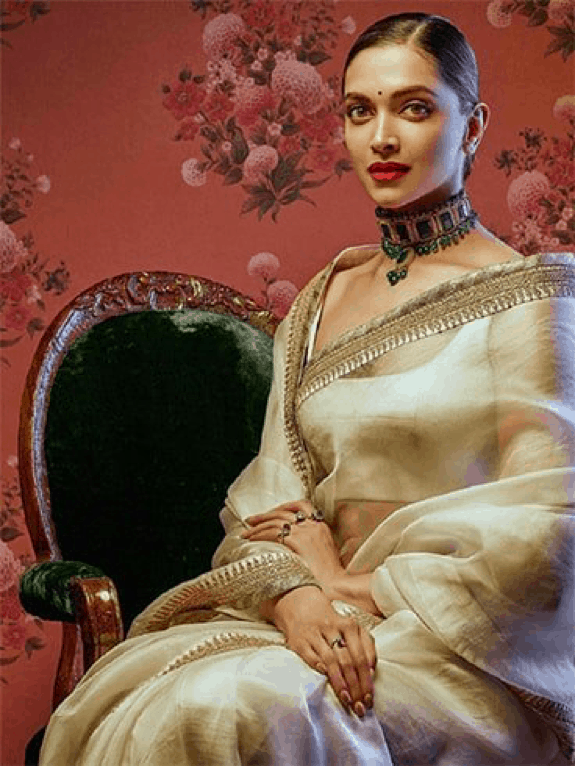 Source- Pinterest
Deepika is wearing a gorgeous looking Emerald Choker from the Sabyasachi Heritage Jewellery Collection. Padukone looks amazingly vintage in this attire.
Official Instagram Handle for Sabyasachi
SABYASACHI IS A COLLECTION THAT WILL BREAK ALL THE STEREOTYPES WITH ITS INVENTIVENESS AND CREATES AN ETERNAL LEGACY