Weddings are usually the happiest and most magical days for the couple. There's the romantic atmosphere where two individuals will finally be joined as one. However, when you have a deceased family member or friend whom you have just been grieving for, it could be tough to enjoy this special occasion wholeheartedly. It's close to natural to feel down regarding the absence of your loved one.
Honoring your departed loved ones can be made possible on your wedding day when you execute unique steps and methods that will make you feel their presence, at least in spirit. You can think of their memory, find ways to incorporate them, and make them feel remembered and loved. This will give you the comfort of knowing that they'll be appreciating your thoughtfulness from above.
Here are various ways for you to pay homage to your departed loved ones on your big day:
Add A Special Flower
It may not be long ago since you have just received flowers as a way of expressing comfort and empathy because of your loss. Understanding funeral flowers is made easy when you've received various flower species from friends and thoughtful relatives, each flower type corresponding to different meanings. Fast forward to today, your loss of your family member or a close friend is still unbearable to fathom.
One way to honour their presence in your life, even as a married person, is to add a special flower into your wedding accent. These can be flowers that remind you of them, which you can add into the boutonnieres (buttonhole flowers) or bouquets of your entourage.
Paying tribute to a loved one at your wedding can be as simple as adding their favourite flowers. Choose blooms that symbolise memory. You can go for flowers like pansies, gladiolus, or rosemary. This is a sweet gesture that will earn smiles from your family and guests who know the deceased person as well.
Display Their Photo On A Locket And Incorporate On Bouquets
Photo lockets are classic but gold. And you can use these to accessorise your bouquet. This signifies how close you are to the person you lost. It can be your family relative, a best friend, or even a pet. Putting their photo inside your locket and tying them within your bouquet will just feel like they're walking down the aisle with you. If you are going to use wedding images of your grandparents, you may need to send them to a wedding photo retouching company first, so that experts will correct colors and recover lost details.
Include Their Names On The Service Programme
Including a deceased loved one in a wedding program is one way to honour their memory. Place their name after the phrase, 'in loving memory of.' This will commemorate their existence, and show respect for their importance in your life.
This simple gesture is a sweet way of proclaiming to the other guests that you consider your departed loved one's presence even in spirit. If you wish to mention their names during your speech, you can do so. And adding their names to the service program should help express your emotions if it's too heavy on your heart.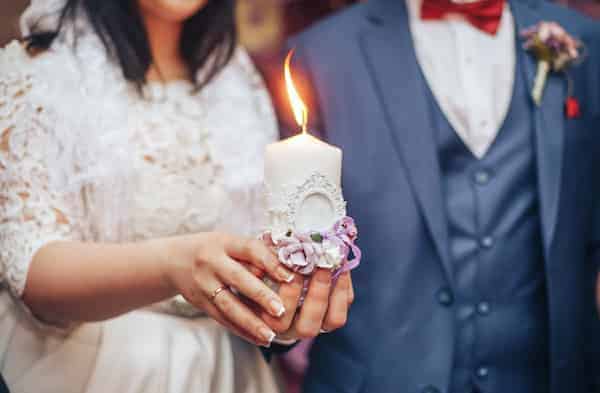 Sew Their Memory Photo On Clothes
This tip is quite unique but is a great idea to consider. Whether the couple is thinking of sewing a photo on their clothing, it could be done possibly by your personal tailor. Look and feel fabulous on your wedding day, knowing you have a priced possession sewn right into your wedding clothes.
After all, it's a great idea to at least feel like the presence of your departed ones is with you every step of the way on your big day. Choose to have the memory photo sewn on hidden areas of your gown or suit, or if you wish to expose them, you can have it sewn facing front so others can also distinguish them.
Display Family Photos
Family photos displayed in the reception or during the ceremony are one way to express your homage to your lost loved one. Nothing brings forth enough comfort than looking at joyful past memories that are printed in photos. You can create and print out a collage of their different photos and have it situated on the guestbook table. Add in a memorable and thoughtful message that expresses your sentiments and love for your deceased loved ones.
Reserve A Seat For Them
Reserve a place at your ceremony to honor your loved one who passed away. On empty seats at your nuptials, you might want to hang a special illustration or picture or place a flower from your bouquet. This symbolises their presence in spirit. It will also give them a sense of gratitude, knowing that you remember them on your wedding day.
Use Their Hankie
If you still have the handkerchief once owned by your loved one, you can carry and use it during the wedding ceremony. Whether you'll be crying tears of joy or wiping away sad tears because of how much you miss them, you'll feel comforted having their possession with you on this most special day. You can hold it close to you, so put it in your handbag and constantly check on it to help you feel relaxed and comforted.
Emboss A Tribute Into Your Veil
Veils can be embossed with a tribute to your deceased loved one. Has it sewn with a personalised message or a thoughtful quote regarding how much you value the memory of your loved one? This is one fantastic effort you can make to stay reminded of your departed family or friend. Your church guests can also see and read it from your back view, understanding its meaning and essence.
Light A Candle And Whisper A Prayer
Lighting a candle can be one way to honour your departed loved ones during your big day. You can either have this activity at the ceremony or during the reception. While you're at it, you and your loving partner can both share a little prayer for them, wishing them peace or expressing how much you miss their presence. This will give you comfort knowing you can give them valuable time during your special day.
Conclusion
No matter which tip you'll consider adopting on your wedding day, you must keep in mind to focus on the happy thoughts. Although it saddens you that they can't celebrate the special moment physically with you, know that they wish nothing but happiness for you on your most special day. Hopefully, by paying homage to their existence, you can express your love for them in these various ways.